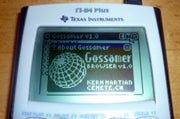 A quick show of hands: How many of you used a graphing calculator in school? Now, how many of you used it more to play games than to solve problems? If you still happen to have one of the calculator's handy, brush off the dust and put Gossamer on it too. Wait, what?
Gossamer is a Web browser espcially for TI-83+ and TI-84+SE graphing calculators (!!), created by PhD student Christopher Mitchell. It uses Global CALnet to access the Internet, and pages are loaded on a remote server. Christopher also used Doors CS, GUI software also made specifically for graphing calculators.
At present, the program can request, receive, display, and scroll pages; keep track of your web history; and click links to view pages. Of course, these are all on a black and white, rather pixelated screen. Of course, Gossamer is still only on its first version–according to Christopher a future version will include a loading progress bar and an address bar.
Although it seems a bit of a step back into the past when you have the likes of smartphones readily available to use, the pixel effect does have a certain charm. Watch the video below to see how it works.
Like this? You might also enjoy…
Get your GeekTech on: Twitter – Facebook – RSS | Tip us off