At a Glance
Expert's Rating
Pros
iPhone component lets you ditch the headset
Correction process improved, but still takes time
Free upgrade for existing users of version 11
Cons
Remote mic app may not work in certain scenarios
Our Verdict
New voice commands and the ability to turn an iPhone into a dictation tool highlight the latest version of Nuance's speech-recognition software.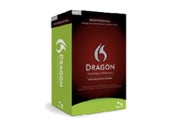 Sometimes it pays to talk to your computer–particularly if you're running a voice-recognition program such as Nuance Dragon NaturallySpeaking 11.5 Professional. With this software, you can create documents and email messages, navigate the PC, and search the Web, all with your voice. This version comes less than a year after the release of Dragon NaturallySpeaking 11; the underlying voice-recognition engine remains unchanged, but this update is replete with a handful of useful interface tweaks, and it adds functionality that iPhone users and social networking hounds will fast appreciate.
Dragon NaturallySpeaking 11.5 Professional ($600 as of July 26, 2011; free upgrade for existing users of version 11) lets you turn your iPhone or iPod Touch (4th generation), running iOS 4.2 or later, into a dictation microphone. This arrangement frees you from having to stay chained to your computer with a headset. You can also post updates to Facebook and Twitter using simple commands. In addition, Nuance expanded the Dragon Sidebar, a desktop helper screen that sits beside your work, offering an index of commands and tips based on your active window.
Nuance includes the Andrea Electronics NC-181 headset microphone (priced at $25) in its package. As bundled adjustable headsets go, I thought that the unit's comfort level was satisfactory. The wide band helps anchor the headset, and you can position the boom on either the left or right side of your mouth. The NC-181 plugs into your PC's audio jacks. (No on-off switch or other in-line controls, though.)
Desktop Dialogue
After installing Dragon NaturallySpeaking 11.5–and before you can start yakking at your PC–the software urges you to complete some "training." This painless process involves reading a series of paragraphs aloud for about 5 minutes (in my case); I chose the set of excerpts from President John F. Kennedy's 1961 inaugural address.
I took version 11.5 for a spin on a Windows XP system and a Windows 7 PC, after completing the minimal training on both machines. Even though accuracy was not the focus of this new release, I still wanted to revisit the software's recognition and accuracy performance, starting from scratch. After I chattered on for a few thousand words, Dragon delivered the goods just from the basic training–as version 11 did. With long documents, accuracy peaked at a bit over 98 percent, while shorter dictation spurts (such as quick and conversational email messages) required barely any editing or corrections at all.
I speak reasonably quickly when I dicatate, and Dragon kept up. For example, in my haste, I tripped up on the word "telecommunications" and raced through "it'll." Dragon nailed those two, and other words and phrases like them–punctuation and all–almost every time. I liked how easily I could use my voice to browse the Web and post updates on social networking sites: Spoken commands such as "Search maps for 1602 Walnut Street, San Carlos, California" and "Search Amazon for universal laptop charger" behaved as advertised.
Misrecogntion and Correction
Overall, most of the errors that Dragon made were minor. A few examples include "in" instead of "on" (or vice versa), "to" instead of "do," singular nouns instead of plurals (or vice versa), and "pen" instead of "PIN." That said, some Dragon interpretations made me giggle: The software heard "pile-driving" when I said "while driving," "cigarette" instead of "figure out," and "year hoax" instead of "earhook." It also added the phrase "excavation point" at the end of my sentence when I really wanted to insert an exclamation point!
In the new version, Nuance refined the spelling window–something I use a lot, particularly for unusual names–making it easier to correct words that Dragon mistranscribes. You can now resize the window so that the list of spelling options is more readable. The benefits end there, however: I still found that completing the correction steps is labor-intensive, especially when spelling out or typing the correct word is necessary. (I freely admit it: I am impatient when donning a microphone.)
iPhone as Microphone
I was curious to see how well the iPhone would work as a remote microphone. (I did not test Dragon's integration with the iPad or iPod Touch.) The verdict: The iPhone handled its role just fine. But setting things up, in my case, proved to be a rocky road.
After installing the free Dragon Remote Microphone app (available via the Apple App Store), I needed to pull up my existing Dragon user profile on my PC, indicate that I wanted to add a new dictation source, and make sure that my smartphone and computer were connected to the same Wi-Fi network. I manually entered the necessary info, which Dragon displayed for me on my PC's screen, into the iPhone's settings–my user profile name created with the Dragon software, plus the IP address and port details. At that point, the iPhone should have connected to my PC. But it did not. In fact, after I tried three different wireless networks, the iPhone and my computers suddenly refused to "talk" to each other.
After I made a couple of calls to Nuance's technical support, we determined that the XP machine's security restrictions were probably blocking the connection. Frustrated, I switched gears and turned to the Windows 7 system; after a little tinkering, the Windows 7 test system and the iPhone finally joined forces. (Nuance's documentation makes it clear that the Dragon Remote Microphone app may not work in all cases: For instance, the company warns, the iPhone feature might not function in certain coffee shops or offices.)
Finally free of a headset's cords, I held the iPhone a short distance away from my mouth, tapped the mic button on the phone's screen to turn it on, and completed my training. After that, I dictated a bunch of email messages, and the accuracy results were similar to what I got when using a headset, as described above. It was tempting to walk far away from the PC and start blabbing into the iPhone, but I found that I wanted to be at the computer anyway to view the words on screen as I dictated them. So I was tethered to my PC, but without a contraption on my head.
As for the Android operating system, the company does not have a Dragon Remote Microphone app offering at this time. But a spokesperson says that Nuance expects to support that platform in the future.
Dragon Varieties
The $600 Professional version is aimed at customers who need enterprise administration tools and advanced custom commands. If you're looking for more-affordable speech dictation, consider the $200 Dragon NaturallySpeaking Premium or the $100 Dragon NaturallySpeaking Home. (Note: The iPhone feature is not available in Dragon Home.)
Be aware that if your PC is more than a few years old, your hardware may not be up to snuff for running the software. Dragon NaturallySpeaking requires machines with a 1GHz CPU, along with 1GB RAM for Windows Vista and XP, and 2GB RAM for Windows 7; what Nuance recommends, however, is meatier than that. See Nuance's site for the full system requirements.
Whichever version of Dragon Naturally Speaking you opt for, you'll quickly be navigating by voice. And if you choose the Premium or Professional versions, you can dictate more naturally now by using your iPhone as a microphone.