One of the most critical elements of good productivity is information capture. When a commitment arises, you need to get it into your trusted system as quickly as possible. When important data pops up that relates to a task on your agenda, you need to grab it instantly in a retrievable form.
Normally, I recommend Evernote for information capture, but I'm not fond of that service for capturing commitments, because it doesn't include very good tools for setting up reminders. (User have been begging the Evernote team for such a feature for years, but to no avail.) Lately, I've been using an alternate app called Catch Notes in place of Evernote, and its reminders feature is good enough to keep me on board.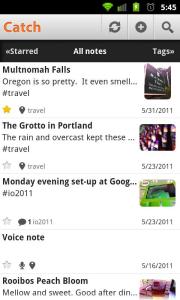 Like Evernote, Catch has apps for iOS and Android. There are no desktop apps yet, but the Web interface is decent and there are a few browser extensions to choose from. Catch lets you input text, voice memos, and pictures. And, crucially, it lets you create reminder notes that will alert you at a later time of your choosing.
Setting up a reminder note in Catch is simple. Launch the app and tap Reminder note. Set the date and time of the reminder, and then enter in some text. Tap Set and you're done.
Catch is a very simple app, much the way Evernote was in the beginning. I won't offer any guesses as to where Catch's dev team will take it in the future, but I wouldn't be all that sad if it stayed fairly simple and just did its current functions well.
Catch is free with a 70MB per month limit, or you can go pro for $45 a year and get a gigabyte of new uploads each month as well as the ability to upload office documents and PDFs.