Regular readers of this blog need no introduction to Evernote. The connected note-taking service is one of the most comprehensively cross-platform productivity tools around, and it's been a mainstay for me over the last several years. Now Livescribe is bundling a $45 Evernote Premium account with the purchase of an Echo smartpen through January 31, 2012.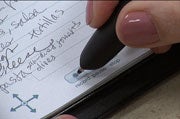 If you're a productivity geek who still loves pen-and-paper systems, the Livescribe Echo smartpens are really worth a try. I've used them on and off over the last couple of years, and they're rapidly growing on me. The upshot is that they track everything you write on the special Livescribe Dot paper. The paper has tiny little dots on it that are read by an optical sensor in the pen. As you write, the sensor knows what you're writing based on the movement of the dots in its view. It can also record audio as you write, which makes it great for taking notes in meetings or classes. (Read PCWorld's full review of the Livescibe Echo smartpen.)
In May, Livescribe beefed up its software with a tool called Livescribe Connect, which automatically sends your smartpen notes as e-mail, uploads them to Evernote, posts them to Facebook, or syncs them to Google Docs. As a frequent user of both Evernote and Google Docs, I've been pretty impressed by Livescribe Connect, since it lets me scribble notes quickly during a meeting, then sync them quickly to Evernote the next time I'm at my PC. Increasingly, I'm finding myself carrying nothing but a pen and notepad to a meeting, leaving the laptop or tablet at my desk. It's like living in the 20th Century all over again, only with full digital recall.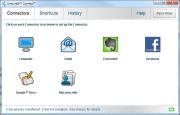 What makes this announcement from Livescribe worth noting is that it's a good opportunity for Evernote users to bump their account up to the next level. With a premium Evernote account, you get a gigabyte of monthly data uploads, rather than the measly 60MB. You can upload any type of file, rather than the standard Evernote-centric fare. More importantly, you get the ability to allow others to read and edit your notes via Evernote's sharing feature, which can great for team collaboration. While these features may not be enough to push a casual user over the fence, there's not much down side to getting the added features for free.
I'd offer this one caveat to anyone looking at a Livescribe smartpen: Hold one in your hand before you buy. The new Echo line is slimmer than previous models, but it's still pretty thick, and that can have a real impact on your personal comfort as you use it. And while I'm generally a fan of these devices for their awesome note-capture features, I'm still not happy with the thickness of the pens. So if you've never held one in your hand, head down to a local retail shop and try writing with one for at least 10 minutes straight before you open up your wallet. Some people like the added thickness, and you may be among them, but it's best to try before you buy.