Apple's aversion to Adobe Flash is no longer much of a problem for iPhone and iPad users–thanks to a workaround app called VideoQ.
Skyfire's VideoQ app launched in the iOS App Store today for $2. Like the existing Skyfire browser that effectively sold out on the App Store when it launched last year, VideoQ converts Flash videos to HTML5, making them playable on iPhones and iPads. And unlike the Skyfire browser, VideoQ allows users to stick with Safari or another browser while queuing up Flash videos for later consumption.
Registering your e-mail address with Skyfire allows you to e-mail pages with Flash video on them to video@skyfire.com, which then sends the video to your queue. Users can also install a bookmarklet in their browser of choice or simply copy and paste the URL of a Flash site into the VideoQ app.
Putting VideoQ to the Test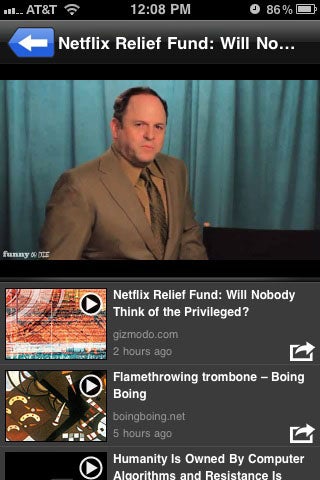 I gave the app a quick spin on an iPhone 3GS. As advertised, a full episode from Comedy Central's The Daily Show's website worked fine, but video quality and frame rate could have been better.
I also experienced delays of about 20 seconds before videos started playing, because the conversion process takes time, and some video sources, such as Hulu, are blocked. One other gripe: There's no way to rewind or fast forward video playback.
Users may also need another workaround to avoid mobile-optimized Websites in their browsers. The Daily Show's Website, for instance, redirects iPhone users to a mobile site that doesn't include full episodes but, if you use an app that can define itself as a desktop browser such as Atomic Web, you'll be able to visit those sites and pass their Flash videos along to VideoQ.
Skyfire is positioning VideoQ as a full-blown entertainment app for consuming Flash content. In addition to playing videos you discover on your own, VideoQ includes a list of popular videos across several categories. Those are welcome additions, but I mainly see Skyfire as a utility for those frustrating times when you run across a Flash video on an iPhone or iPad and are unable to play it. A solution to that problem is well worth $2.
Follow Jared on Facebook and Twitter for even more tech news and commentary.