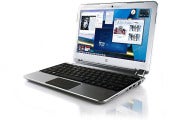 Verizon's first foray into outfitting a laptop with its 4G LTE wireless broadband service comes via a partnership with Hewlett-Packard. On Thursday, Verizon put up for sale a 11.6-inch HP Pavilion dm1-3010nr with a built-in 4G antenna. The price $600.
But hold on a minute. You can buy nearly the identical laptop directly from HP for $420 along with HP's HSPA+ version built-in wireless antenna for $75. That would save you $100. Why Verizon is not pricing its first wireless broadband-friendly laptop more aggressively is a head scratcher.
Here's the nitty-gritty when it comes to pricing and savings.
With Verizon's offer that comes with built-in 4G broadband, you can surf the Web on Verizon's dm1 up to 10x faster than 3G wherever you have access to Verizon's 4G LTE network. The only problem? The HP dm1z scored high points with PCWorld for offering a lot of bang for the buck, but Verizon's hefty $600 price tag severely cuts that value proposition.
The dm1-3010nr is available directly from Verizon for $600 with no contract. For that price you get a lightweight laptop (okay, netbook) with an AMD Fusion processor, a 320GB hard drive (7200rpm), 2GB of RAM-and the built-in broadband chip. You pay for the 4G (or 3G, if 4G isn't available) service month to month: $50 for 5GB or $80 for 10GB.
Right now, though, you can buy the dm1 directly from HP with the same specs, except 3GB of RAM with the current promotion, for $420 after instant rebate. That's a $180 difference. If you're dead set on having a mobile broadband chip in your laptop, you can add HP's HSPA+ version for $75 more. The $495 total is still much less than Verizon's version.
I'm not sure why you would buy the Verizon model or why Verizon didn't more competitively price its first LTE laptop. Most people would be better off getting the dm1 from HP-either with the mobile broadband chip installed (for convenience) or in tandem with a mobile hotspot like Verizon's own 4G LTE mobile hotspot that's $29.99 with 2-year contract. You could also connect four other devices to that hotspot in addition to your budget-friendly dm1.
Follow Melanie Pinola (@melaniepinola) and Today@PCWorld on Twitter