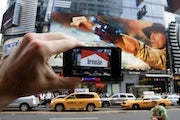 A new project developed by anti-advertising group Public Ad Campaign uses your iPhone or iPad to replace ads seen in public spaces with art. The Public Ad Campign had a little help from developers The Heavy Projects, which specializes in these kinds of Augmented Reality apps, who used the Junaio AR app to put together the project.
Here's how it works: Once you open the app on your iOS device, it will begin to use the camera for a live display. The app's Augmented Reality component only comes into play when you point the device at a billboard ad or a poster. The moment the app identifies an advertisement on one of those, it replaces the content showing on your mobile device's display with a piece of art created for the app. The art often mocks the advertisement it replaces. For instance, a parody of old Marlboro cigarette ads can replace the ads for the new film Cowboys and Aliens.
The app does this replacement dynamically whenever it sees an ad. So as far as the viewer is concerned, the real ads don't even exist.
We've seen quite a few apps that modify public advertisements before, but they usually come from the advertising companies and make ads more dynamic. A great example of this is the AR Super 8 ads created by Aurasma earlier this year. While these ads have their own appeal, it's great to see this tech filter down to the public.
At the moment, the Junaio layer is geared just to identify ads currently displayed in Times Square in New York City, but it's based on image identification, so, if any of the ads you saw in other cities were the same–perhaps this Cowboys and Aliens movie ad–the app could work.
The layer is still in beta, but the Public Ad Campaign has said that it plans to create many more projects based around this project for public use.