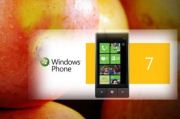 Microsoft's Windows Phone Mango brings the mobile OS up to snuff with Apple's iOS and Google's Android OS. But Microsoft will soon find itself behind the eight ball again compared to what Apple has in store with iOS 5 and Google with Android Ice Cream Sandwich, both of which are set launch later this fall.
The most trumpeted feature of Mango is multitasking, something that rival operating systems have already mastered (admittedly, some later than others). Other Mango improvements include new conversation threads, which combine text, IM and Facebook chat; a revamped Web browser that Microsoft says will be much faster than other mobile browsers; and better support for HTML5 (no Flash support announced).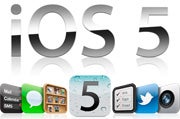 Apple Seeks Android Inspiration
Meanwhile, Apple has played catch-up with Google's Android in iOS 5, set to become available to consumers this September. With iOS 5, Apple finally adds a notifications center (similar to Android's), as well as contextual Twitter (but not Facebook) integration and Mail and Safari improvements.
Apple has already stolen the spotlight with iOS 5, announcing a PC-free iPhone, and iPad (meaning you won't need a computer cable to activate, sync, or update apps and media), iMessage (like BBIM for iOS devices), and cloud integration via iCloud.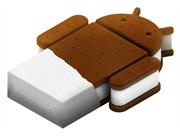 Android Has Its Own Problems
Google has its own catching up to do too with Android, especially when it comes to fragmentation, which is one of the biggest annoyances of the platform. Unlike Apple customers, who get a software update as soon as the company pushes it out, Android updates are trickled through to manufacturers and wireless carriers (who are also the distributors), and take significantly longer to reach customers.
This has created what is called fragmentation: only a minority of users is running the latest software, while others are stuck waiting for software updates that may not even show. Given the variety of the Android ecosystem, developers also have to work on many screen sizes, resolutions and hardware capabilities, making the Android development process more difficult than on Apple's relatively unified platform.
Google hopes to solve the problem of fragmenting its OS with Ice Cream Sandwich, which is set to arrive in Q4. The update plans to make it easier for developers to create apps for the various Android hardware and software versions, but Google has not detailed on how it plans to achieve that. Ice Cream Sandwich also promises to level the differences between the phone-based (Gingerbread) and tablet-based (Honeycomb) versions of the OS.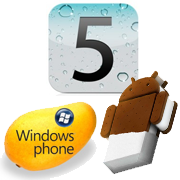 Is Apple Winning?
Overall though, there are indications that the iPhone 5 and iOS 5 have already won the hearts of consumers shopping for a smartphone this fall. A survey from comparison site PriceGrabber found that Apple's "anticipation and brand loyalty are certainly high", with 48 percent of respondents saying they prefer iOS, compared to 19 percent choosing Android and only 7 percent going for Microsoft's Windows Phone 7 platform.
While Microsoft and partner manufacturers and carriers are taking their sweet time to push Mango (announced in April, heading to phones some time in September), Microsoft has its work cut out for it if it wants to compete against Apple.
Yet the upcoming features of Mango, which was released to manufacturers on Wednesday, bring little novelty to the smartphone arena dominated by Google and Apple. Microsoft needs to do more than just play catch-up with Apple and Google, who always seem to be one step ahead of the game.
Does Microsoft stand any chance against Apple and Google with its smartphones? Will you buy an iPhone, Android or Windows Mango Phone this fall? Sound off in the comments.
Follow Daniel Ionescu and Today @ PCWorld on Twitter