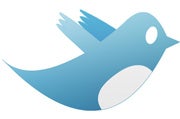 Starting today, Twitter's "promoted tweets"–also known as advertisements–will begin appearing at or near the top of users' timelines, the company announced today.
The ads will only appear from organizations that users follow, a thoughtful move that will likely lessen the ire of Twitter fans who'd rather not see any ads at all.
The promoted tweets will scroll through the timeline like other tweets, and they'll appear in a timeline only once, according to a Thursday post on the official Twitter blog. Users can remove promoted tweets from their timelines "with a single click," the company says.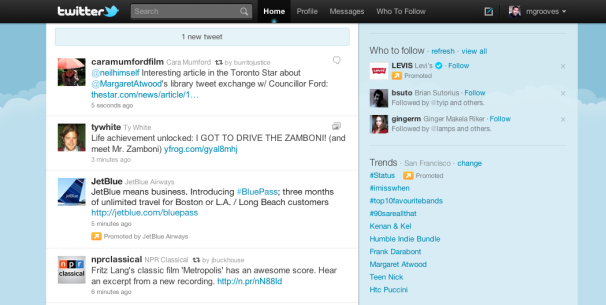 Twitter is implementing the revenue-generating feature over the next few weeks with several corporate partners, including Best Western, Dell, Gatorade, Groupon, HBO, JetBlue, LivingSocial, Microsoft Xbox, Red Bull, Sephora, Starbucks, Summit Entertainment's "50/50", TNT, and Virgin America.
You may also see promoted tweets from non-profit groups you follow, including the Make-A-Wish Foundation, Room to Read, The American Red Cross, and Water.org.
As a Twitter user, I don't have a problem viewing scrolling ads from companies I've chosen to follow. But will Twitter stop there? Earlier this month, AllThingsD reported Twitter was devising a system that would allow advertisers to reach users who don't follow their brands, or who search for specific terms.
Will ads send flocks of Twitter users elsewhere? It's possible that deal-oriented promoted tweets, such as a limited-time discount on Jet Blue flights, may actually be welcome.
Twitter's management has the challenging task of offering value to its users without turning the service into a cheesy online billboard for advertisers.
Contact Jeff Bertolucci via Twitter (@jbertolucci ) or at jbertolucci.blogspot.com .