At a Glance
Expert's Rating
Pros
Futuristic and unique design
Webtop interface worked well
Cons
Mediocre camera
Screen has a blue coloring to it
Our Verdict
The Photon impresses with a cool design and some nifty accessories, but photographers will dislike its camera.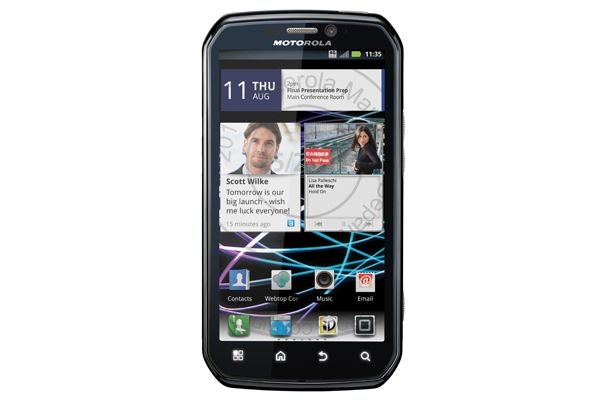 Sprint and Motorola announced its renewed partnership about a month ago, and so far we like what we've seen. The Motorola XPRT is a solid BlackBerry alternative, while the Triumph (on Virgin Mobile, which uses Sprint's network) is an impressive prepaid phone. The Motorola Photon 4G ($200 with a two-year contract from Sprint; price as of July 29, 2011) is the most impressive of the bunch, however, with a cool design, excellent accessories, and a healthy mix of business and entertainment features. The camera produced mediocre images in our tests, however, and the screen has a slightly bluish tint.
Unique Design and Features
The Photon looks unlike any phone we've encountered this year. Motorola chopped off the corners of the phone, creating sort of an octagon shape. It's a subtle design detail that gives the Photon a futuristic, angular look. The Photon feels extremely solid in the hand–not cheap or plasticky like some of its competitors. It has a nice, rubberized backing, which helps you get a good grip. Weighing just 5.57 ounces, the Photon won't drag you down, either.
The Photon has the standard Android touch-sensitive buttons and the usual ports, jacks, and hardware buttons, but it also provides a few standout features. One is an HDMI port, a crucial feature when you use the phone with the media dock (which we'll cover later in this review). You'll also find a dedicated camera button–a small but necessary item that is missing from the majority of this summer's smartphones.
Notable as well is the Photon's kickstand, which you'll find on the back. We had a bit of a hard time popping the kickstand open (use your nails), but we were impressed with how Motorola optimized its software for the phone in kickstand mode. In kickstand mode, the phone automatically enters landscape orientation, and the clock becomes the largest and most central widget. Around the clock, you'll see widgets for the alarm, the screen dimming controls, your music, and your gallery. You can always customize this screen if you prefer to have other widgets appear in kickstand mode. You can also easily switch back to the regular home-screen view.
The 4.3-inch qHD (Quarter High Definition) display looks very sharp and clear, but in our trials it seemed to have a slight bluish tint. We've noticed this issue with the last few Motorola phones we've reviewed, including the Triumph and the Droid 3.
MotoBlur and Multimedia
Like most of the hot new smartphones of the summer, the Photon runs Android 2.3 (Gingerbread). And, like the Droid 3 and the Atrix, it also runs the Motorola MotoBlur service. This version of MotoBlur is quite similar to the versions you'll find on the Droid 3 and the Droid X2. We're not huge fans of MotoBlur, but Motorola is steadily making improvements to its user interface and cloud service for Android.
We've covered MotoBlur quite a bit in our other Motorola phone reviews. It offers some useful connected widgets: For example, you can aggregate status updates from Facebook, MySpace (really, does anyone still use MySpace?), and Twitter, and display them in a single widget on your home screen. The result isn't as obnoxious as you might think–MotoBlur doesn't just blast new status updates one by one. Since your social networking accounts are connected to the server, MotoBlur will show your friends' updates in groups, updating every few minutes or so. You can also post status updates across multiple networks from another widget, which Motorola has smartly made to resemble a chat bubble.
This version of MotoBlur also comes with Motorola's new Music app, which presents recommendations, concert event listings, and music news based on your library. It also gives you access to a nice selection of Internet radio stations as well as various podcasts. You can buy music directly from the app via Amazon MP3. You might not use MotoBlur as your primary music app, but it's worth trying out. We're also huge fans of the mSpot app for Android, which gives you access to Internet radio stations as well as your own collection.
The Photon has a lot of business features, as well, including Exchange support, enterprise security, and 3LM's Ready for Business software. All of that–coupled with the fact that the Photon is a world GSM/CDMA phone–makes it ideal for business users.
Call Quality, Data Speeds, and Performance
The Photon ships with an Nvidia Tegra 2 processor, plus 1GB of RAM and 16GB of on-board storage. It can support a 32GB MicroSD card, too, so you'll be able to store all the photos you shoot with its 8-megapixel camera. And, as its name implies, it can connect to Sprint's WiMax 4G network.
Although the Tegra 2 processor made scrolling through menus and opening apps lightning fast in our tests, we encountered some lag when scrolling through home screens (especially if they had widgets running). It was really noticeable after we came out of an application, but it wasn't so bad as to completely slow the phone down. We tried running Cordy (a dual-core optimized game) and Angry Birds to see how the phone performed as a gaming device. After playing both games for a few minutes, we're happy to report that both games ran smoothly and looked great on the Photon's 4.3-inch display.
Browser speeds are what you'd expect over 4G. We loaded the image-heavy desktop version of Gamepro.com in less than 10 seconds, and streaming videos played without buffering. The screen on the Photon was very responsive, though it was a bit difficult to see outside (like the displays of many other phones).
Doing an informal test using the Ookla Speed Test application, we managed to get 6 megabits per second down and 1.5 mbps up from our offices in San Francisco. While such results aren't as crazy-fast as the numbers we've seen from Verizon's LTE network, such speeds are more than fast enough for downloading movies, grabbing apps, and browsing Web pages without a hitch.
Call quality was nice and clear, though we did find the default earpiece volume to be a little too high. Voices came through nicely, and people on the other end said the sound was very clear as well.
Camera
We've never been blown away by the image quality on Motorola cameras–the white balance tends to be off, giving photos and video a bluish tint. The Photon 4G's 8-megapixel camera suffers from these issues too, unfortunately. Again, white balance looked off, and details weren't nearly as sharp as they were in images from other 8-megapixel phone cameras. Our outdoor photos looked a bit hazy, too, even though the sky was quite clear outside.
We always rag on the MotoBlur Gallery, but the latest version adds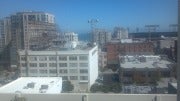 some welcome improvements. You can see images from your own library, in online libraries (Facebook, Flickr, Photobucket, and finally
Picasa), or in your friends' libraries on assorted social networks and
on DLNA servers.
Like just about every high-end phone to come out this summer, the Photon also has a front-facing video camera for making video calls. However, the Photon 4G does not have the latest version of Google Talk, with video chat. For your video-chatting purposes, you'll have to download Qik, Tango, or any other app that allows it.
Media Dock and Other Accessories
When you connect to the webtop dock, you can access the full Firefox browser as well as a slew of specially made productivity apps. The dock features three USB ports, so you can connect a keyboard and mouse to the phone for increased productivity. Certain apps (such as the aforementioned Angry Birds), can run at full screen on a larger display.
The dock itself looks nice, though it feels like cheap plastic once you get it in your hands. Unlike the webtop dock that launched with the Atrix, this media dock is more for turning the Photon into a desktop rather than a laptop.
The dock uses a cable (Micro HDMI to HDMI) to connect to a larger screen, and you'll want to plug in a mouse and keyboard to navigate on that bigger screen (you can use the phone's touchscreen to move the pointer, but it isn't nearly as nice as a good old-fashioned mouse). In our tests, the webtop dock worked well in tandem with the Photon. Using the phone's 4G connection, you can play Flash videos from the Web and manage your phone on a much larger screen. You can launch any app installed on your phone, as well as send text messages and adjust phone settings.
The dock comes with a remote to control the setup from afar, and it charges your phone while the handset is plugged in (it comes with its own power supply). The dock retails for $99 with an HDMI cable.
In addition to the webtop dock, the Photon is launching alongside a new car dock as well. The car dock comes with a USB car adapter (so that your phone can charge while you drive), a USB cable, and a 3.5mm audio cable to hook up your phone to your car stereo. Alternatively, if your car comes with Bluetooth, you can connect your phone that way.
The car dock is adjustable, and meant to be stuck on your windshield. Once you lock the Photon into place, the car dock app will launch automatically. The app is designed to allow you to quickly perform tasks on your phone without being too distracted while driving. You have two screens through which you can swipe, and the icons are all nice and big so you can tap them without having to be precise.
The screens have spaces where you can add any app you wish, though I wouldn't recommend adding games. You can use voice commands to get directions, dial a contact, or just perform a regular Internet search. The car dock retails for $60 and seems pretty useful for anyone who is on the road a lot.
Bottom Line
Of all the Motorola phones we've seen this year, the Photon is definitely the best of the pack. The design is one-of-a-kind, and the Tegra 2 processor paired with Sprint's 4G network is hard to beat. But the Photon 4G suffers from some issues we've seen across multiple Motorola devices, such as the bluish tint to the display and the uneven camera. The much-anticipated Droid Bionic (which we saw way back in January in CES) seems like it keeps getting pushed back further and further. Could Motorola be addressing these issues before its release? We shall see.