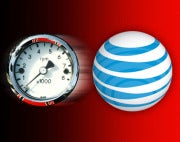 AT&T is rumored to be changing its data plans once again alongside the arrival of Apple's next iPhone. Instead of slapping overage charges on data hogs, AT&T may switch to throttling data speeds instead, 9 to 5 Mac reports.
AT&T began limiting data use in June 2010, shortly before Apple launched the iPhone 4. New smartphone subscribers are currently limited to 2 GB of data for $25 per month, plus $10 for each additional GB. Throttled plans would presumably eliminate overage charges in exchange for slower speeds during the billing cycle in which the threshold is met, but it's not clear what those throttled speeds would be if this rumor pans out.
The switch to throttling is reportedly set for the first week of October. This is the same week that AT&T is rumored to alter its insurance structure, 9 to 5 Mac says, suggesting that the iPhone 5 will be released around that time. Most rumors, however, peg the iPhone 5's arrival for September.
I find the throttling rumor plausible. T-Mobile switched to throttling earlier this year, while Virgin Mobile will make the switch in October. If AT&T starts throttling, it'll follow an industry trend while giving itself an advantage over Verizon Wireless, whose new tiered data plans include overage charges. AT&T could even be sneaky like T-Mobile and advertise "unlimited" data while relegating its throttling thresholds to the fine print.
But if this happens, I'd welcome it as a step up from overage charges. Unlike voice minutes, which are fairly easy for consumers to quantify, data use is tricky. Most users can't estimate offhand how much data they use by streaming music or regularly checking e-mail, so overage charges can seem predatory.
Still, I wouldn't be surprised to see a switch to tethering accompanied by a price increase, say, back to the $30 per month that AT&T used to charge for unlimited data. From what I've seen, wireless carriers rarely give something without taking something else away.
Follow Jared on Facebook and Twitter as well as Today @ PCWorld for even more tech news and commentary.