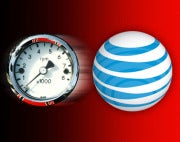 Looks like the rumors reported earlier this week by 9 to 5 Mac were true. AT&T announced Friday that it will start throttling data speeds to manage the network's top data hogs. But, that may not be a bad thing.
The changes will take effect October 1 for customers with unlimited data plans. That means that once a customer uses enough data to put them in the "top 5 percent of heaviest data users," his or her connection speeds may be reduced for the remainder of the billing period, AT&T said. The speeds will be restored to normal at the start of the next billing cycle.
The speed change won't just happen behind the scenes. AT&T said it will send its affected users "multiple notices" and grace periods before throttling their connections.
AT&T asserts that most users will be unaffected by the policy change and those that will be affected typically use "12 times more data than the average of all other smartphone data customers."
Good News
The good news is that users with tiered data plans will be unaffected by the policy change. In fact, AT&T nonchalantly points out that its heavy users now have a choice: Unlimited plans with the potential for reduced speeds or tiered plans with a finite amount of data, potential for overage charges, and no risk of speed reduction.
I'm sure AT&T will catch some flak for the update, but it's refreshing that a big network is actually giving its users some sort of choice. T-Mobile switched to throttling earlier this year, Verizon dumped unlimited data for tiered plans with overage charges in July, and Sprint jacked its data plan rates up by $10 per month in January. In many ways, AT&T is moving in the right direction–especially if the changes will only affect the top 5 percent of data users.
AT&T said that people have to try pretty hard to be affected by the change:
"Typically what puts someone in the top 5 percent is streaming very large amounts of video and music daily over the wireless network, not Wi-Fi. Streaming video apps, remote web camera apps, sending large data files (like video), and some online gaming are examples of applications that can use data quick," AT&T said.
If you're an average smartphone user, you won't have to worry about monitoring your smartphone data habits. AT&T claims that users can "send or receive thousands of emails, surf thousands of Web pages, and watch hours of streaming video every month" without being in the top 5 percent of data users.
It will be interesting to see if another report from 9 to 5 Mac pans out. Earlier this month, the site reported that AT&T will be revising its insurance program, possibly in conjunction with the release of the next iPhone.