The biggest challenges for all growers–commercial or recreational–is keeping track of the variables of the season and making decisions based on past performance. MyGardenBytes is a database that allows you to track seeds, clones, plants, and fertilizer use, in general and through daily journals, and across multiple locations.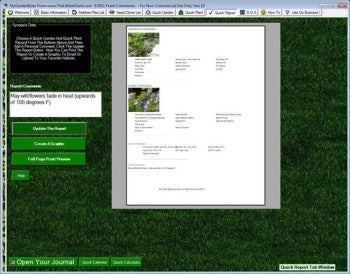 The creator of MyGardenBytes specializes in hydroponics, so it's not surprising that MyGardenBytes focuses on hydroponic growing. However, even with a conventional garden, MyGardenBytes remains useful: Use MyGardenBytes to set up as many garden spaces as you need, then catalog your plants. Keep track of seed type, purchase info, date planted and germinated, and much more–too much for a conventional garden perhaps, but not if you are a specialty grower. Once you've cataloged your gardens and plants, you can easily create journal entries to track plant height, girth, stage, health, room temp and humidity, fertilizer information, photos, and so on. The journal entries also can generate reports and graphs from your data.
There are a few things that you can't track: weather conditions, location, sales, or profits, but MyGardenBytes includes comments fields on each entry which you can use for text. And there are a few annoyances: You can add images, although if they are tall orientation they'll stretch to fit the wide aspect; the highly patterned user interface makes the text difficult to read; and there's no obvious way to back up your files.
You can export your files and reports from MyGardenBytes as .XML or JPEG, or print them. Currently, you can import .XML files only, but MyGardenBytes' developer hopes to soon add a utility to import any spreadsheet into the program.
There are a number of garden tracking programs and online service available, like the $60 Garden Tracker, which has similar features but is geared more to the perennial flower garden; and PlanGarden, which costs $20 per year and is very basic. If you want to track more than your planting plan and harvest yield, don't want to spend any money, or are interested in an unusual field like orchid breeding, MyGardenBytes is a great, free, alternative.
Let's face it: MyGardenBytes is not going to win any awards for the most massively downloaded utility, simply because it has a very narrowly-focused appeal. But there's nothing wrong with that, and in this case, it works to the program's advantage. This highly-specialized, homespun app has created a category of software many hydroponics growers probably never knew they needed, and has mastered it in one stroke. MyGardenBytes is extraordinarily good at what it does.