Nokia and Microsoft's marriage of convenience may finally be ready to bear fruit.
The two companies sent out a joint invitation on Monday to a "party" slated for August 17 in Cologne, Germany. Although the invitation didn't get too specific about the occasion (besides mentioning there will be a live act, great djs, and free grub), it's hard not to expect the official debut of Nokia's first Windows Phone 7-based smartphone.
It's unclear what device will be announced, if any, but it could be the codenamed "Sea Ray" phone that was recently leaked online when Nokia CEO Stephen Elop showed it to employees.
The timing for a big announcement couldn't be better. Windows Phone and Nokia are struggling to stay relevant in an environment ruled by iOS and Android.
Some surveys show that Windows Phone 7 has lost popularity with consumers since it launched in November. Nokia hasn't been doing too well either: its smartphone sales dropped by a third in the second quarter this year.
Nokia finally releasing a Windows Phone could jumpstart what should be an extremely successful relationship for both companies. After all, soon after the Nokia/Microsoft partnership was announced, analysts predicted that Windows Phone would overtake iOS as the second most popular smartphone operating system by 2015.
Launch Date Uncertain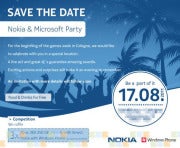 Nokia announced in February it would be using Windows Phone for its high-end smartphones, but failed to say when consumers would see those devices. Back in February, Nokia Chairman Jorma Ollila said that there would be no Windows Phone 7 phones from Nokia until 2012. In May, Nokia CEO Stephen Elop said the company had "increased confidence" that one of its Windows phones would make it to market before the holidays.
Nokia also announced Monday that it would be dropping the one-letter naming convention it has been using for its phones.