Skype's Internet phone and video chat application for Apple's iPad was available late Monday, but was quickly pulled from Apple's online stores. Skype said in a Twitter message that it had gone live prematurely.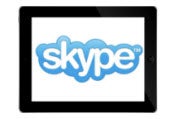 "We know you've been eagerly awaiting Skype for iPad and apologize for the inconvenience", the Luxembourg-based company said in a second message on Twitter.
It is not clear when Skype on iPad, which was reported to go live over a month ago, will now be available. A video of the application running on the iPad was posted online in June.
In a June interview with Apple blog TUAW, Skype's vice president of consumer and product design, Rick Osterloh said the iPad version will have chat, audio and video calling. A few features in the PC/Mac app such as file sharing did not make it into the iPad version because of the way it handles files, he added.
Microsoft said in May that it had agreed to acquire Skype in an $8.5 billion deal. It said it would continue to support Skype's product on rival platforms. Versions of the Skype application are already available on a variety of platforms including the Mac and iPhone.
John Ribeiro covers outsourcing and general technology breaking news from India for The IDG News Service. Follow John on Twitter at @Johnribeiro. John's e-mail address is john_ribeiro@idg.com