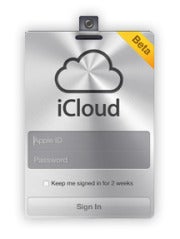 Apple has unveiled a beta version of iCloud.com, the company's host of cloud applications, as well as pricing for the services. The website is currently open to a limited number of developers only, but Apple promises that a public launch will occur sometime this fall. Apple is positioning iCloud as the online home of all your data, including documents, contacts, calendars, email, and media–for a price.
Unlike Google, which gives away most of its services in exchange for users' details for advertising purposes, Apple will charge users who require more than the available 5GB of free iCloud storage (documents, backups, contacts, calendars), and it won't display ads. Additional space will be priced at $20 per year for 10GB, $40 per year for 20GB, and $100 per year for 50GB. You'll be able to buy storage through the iOS5 iCloud settings panel. Photo Stream images (hosted on iCloud for 30 days for free), iTunes media, and books won't count against the free 5GB quota.
iCloud users will also be able to access their email, contacts, and calendars at the iCloud website via a browser. The beta site also provides access to the Find My iPhone service, and it has a new section called iWork that may offer editing or just viewing functionality for documents. Nondevelopers using MobileMe or OSX Lion have found access beyond the login screen of iCloud.com to be sporadic, but 9 To 5 Mac and AppleInsider have published several screenshots of the available apps.
When launched this fall, iCloud will replace Apple's MobileMe $99 per year sync services offering, which Apple will switch off throughout the coming year. iCloud will also be integrated on Apple's mobile devices through the iOS5 software update.
Follow Daniel Ionescu and Today @ PCWorld on Twitter.