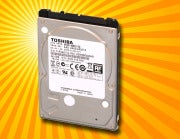 Toshiba enters the nascent 1-terabyte laptop hard drive market with the company's first 2.5-inch 1TB HDD, the MQ01ABD. The drive has an industry-standard 9.5mm height and uses two 500GB platters.
Laptop storage capacity has really come a long way. Previously, hard drives with huge capacities were too big to fit into most laptop storage bays. Samsung and Western Digital recently introduced 1TB hard drives for laptops that are 9.5mm tall–which is more laptop-friendly. Now Toshiba offers its own model.
Toshiba says in its announcement that with the MQ01ABD, the company has increased the quantity of data stored per square inch by over 37 percent compared with prior 2.5-inch models.
The MQ01ABD has a 5400rpm rotational speed, 12ms seek time, and a SATA2 interface. It's also available in smaller 250, 320, 500, and 750GB capacity versions-but imagine all the games and media you can now stuff on your laptop with one tetrabyte of space.
No word on pricing yet, but mass production of the hard drive will start in the middle of this month.
Follow Melanie Pinola (@melaniepinola) and Today@PCWorld on Twitter