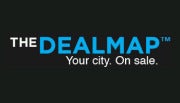 The Dealmap, a daily deals site that specializes in maps of deals in your local area, announced Tuesday that it had been acquired by Google. Google has gotten increasingly serious about the deal site market in the past year. The company launched its own deal network, Google Offers, earlier this year after a rejected bid to buy Groupon.
The Dealmap, based out of Menlo Park, California, launched in May of 2010 and has built a massive database of deals over the past year. As the company was quick to point out in a blog post about the deal, the site has already grown to over 2 million unique users. Google is probably more interested however in acquiring Dealmap's DealExchange API, software that helps business large and small integrate Dealmap's database of location information for deals.
It's still unclear what exactly this agreement means for the future of The Dealmap–or, indeed–for consumers. The company says that Google will help it "innovate in new and unexplored areas of commerce," which is fairly vague. It seems likely that The Dealmap's various products and services will be integrated into Google Offers. Google's deal network is in a limited beta trial in San Francisco
For now, there's appears to be no need to fear that this will turn into another GrandCentral debacle. Google bought that VoIP company in 2007 and then took almost two years before the search giant launched its own version of the service–Google Voice. For now, The Dealmap will continue to support its products as usual, so the many companies that currently depend on DealExchange, including giants like Microsoft, can keep using it.