Some software seems to never update; some seems to update every week. It's easy to be few releases behind the curve, which can be anything from mildly annoying to–if there's a major security hole in the version you're using–outright dangerous. UpdateStar will scan your installed programs, check their versions, and look at their database to determine if you need to upgrade. In the freeware version of UpdateStar, all it will do is tell you–you have to go hunt down the newest version on your own. Don't get me wrong: This is still useful, as I discovered I was seriously behind the curve on some software I use regularly.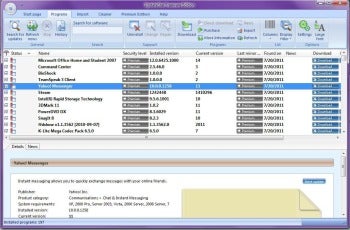 UpdateStar is sometimes a little quirky about how it decides versions, and doesn't distinguish between new versions of a program and new programs in a series or line. For example, I downloaded Bioshock via Steam a while back. UpdateStar tells me I am out of date–but it's basing this on the existence of Bioshock 2, an entirely different game, and isn't seeing if I have the latest patch installed to Bioshock 1. This can be problematic in smaller ways. I am not eager to move to Office 2010, but I do want to be sure I have the latest patches to Office 2007. However, UpdateStar's database is not smart enough to draw that distinction.
UpdateStar Premium ($35) kicks up the functionality quite a bit. For one thing, you can click the "Download" button and instantly be taken to the official download site for the current version. "Minor" upgrades (1.1245 to 1.1246) become visible in the window. It also offers community-driven security ratings. UpdateStar Free suffers from the "teaseware" problem to a partial extent; while some functions are clearly marked as not available, others will seem active until you can click on them.
Because of the community-driven nature of UpdateStar, it can often be frustrating. For example, I am in the beta for a game called APB Unlimited. I haven't updated my beta in a while, being busy, and so I clicked the "download" option in UpdateStar. This took me to the UpdateStar Web page, where I found a number of banner ads that feature big, shiny "download" buttons to tempt casual or careless users into clicking them. Buried in small print at the bottom of the actual content on the page, I unearthed a notice that no download for the beta was available, and would I please like to add one? I might ask why the program itself isn't smart enough to disable the "Download" option if no such link exists, but the answer is simple: If it did that, there would be less reason for me to go the Web site and see the revenue-generating banner ads.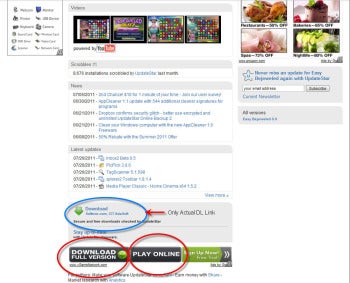 While I recognize that companies often have little control over the content of banner ads served to their site, the omnipresent fake "download" buttons when taken to a page whose main purpose is to provide a "secure" download for updates is counter-productive. I do not know what, if anything, UpdateStar can do to filter these ads, but perhaps not displaying them to "Premium" customers would be possible. "Pay for ad-free" is a common business model.
Another issue I experienced was that when I went to look for an update to PopCap Games' popular Bejeweled, I was linked to a page for "Easy Bejeweled," a game from a different company. I was informed that the database update is semi-automated but human-moderated, and these kinds of incorrect matches are known, but rare. So, check carefully to be sure you're looking at the right program.
On the plus side, UpdateStar's background scan has alerted me, in the span of one week, to three updates to programs I likely would have missed.
Overall, I found UpdateStar to be a great idea with a lot of functions I could use, marred by the apparent design intent to funnel users into advertising-laden pages whether there was any meaningful content there or not. The database is simultaneously extensive and incomplete; there are many programs it knows about, but the detail for each program varies greatly. The ad-cluttered Web site and the occasional data errors I've experienced all work to undermine the main selling point of UpdateStar as a one-stop-shop for safe and current downloads. PCWorld favorite Secunia PSI is a better bet.