The latest build of Google's Chrome browser is available now and has two noteworthy upgrades: Instant Pages, which loads Web pages faster; and print preview, a feature that many Chrome users (including me) have sought for a long time.
Instant Pages, which Google made available to Chrome beta users last month, shaves a few seconds off page-loading times by prerendering the top search result. When you click the link, the page loads instantly.
Of course, Instant Pages only saves time if you click the top result. Google is confident you will.
"The good news is that we've been working for years to develop our relevance technology, and we can fairly accurately predict when to prerender," wrote Google Fellow Amit Singhal when Instant Pages debuted in June.
Print Preview – Finally!
I've used Chrome as my primary browser for more than a year now, and I've always wondered when Google would add a print-preview feature. Well, it's here. Windows and Linux users can preview pages in Chrome by upgrading to version 13; Mac users, however, will have to wait a while. (Google isn't saying for how long.)
Chrome 13 doesn't have a separate menu listing for print preview. Rather, when you select "Print" from the menu, the preview screen appears automatically.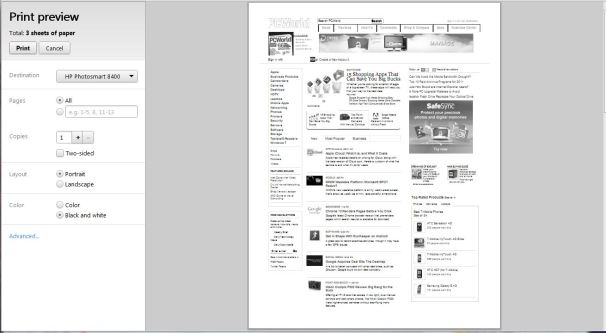 Chrome's default print-preview setting is for black-and-white pages, as shown above. (I'm guessing this is a cost-saving feature to preserve color ink and toner.) You can view color previews as well, though.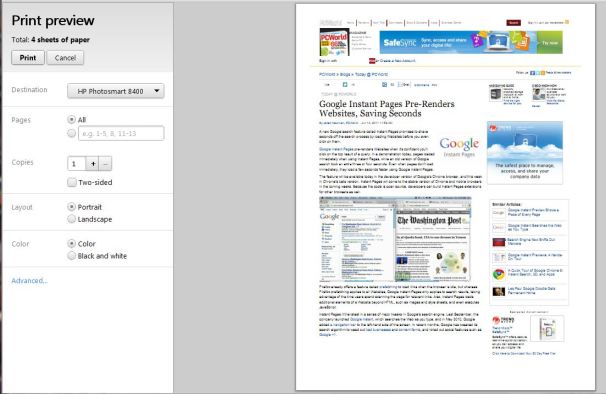 Since Chrome updates itself automatically, the version 13 upgrade is painless.
Contact Jeff Bertolucci via Twitter (@jbertolucci ) or at jbertolucci.blogspot.com .