At a Glance
Expert's Rating
Pros
Terrific-sounding audio
WebOS has a slick, tablet-friendly design
Cons
Slow performance
Limited functionality
Poor app selection
Our Verdict
The first WebOS tablet gets some things right, but stumbles more than it succeeds.
My first review of the HP TouchPad said it and many others agreed: This tablet was terribly slow. Even HP promised there would be a firmware update to improve performance issues. More than a month later, that firmware update has arrived, but our testing found that it doesn't do much to improve upon the TouchPad's lousy performance.

When the PCWorld Lab tested things like overall browser speed, page load times and startup time, we found some minor improvements, but not enough to put the TouchPad in the same league with leading tablets. And tasks like opening apps and moving among them and among media files still feels slow.
There were some significant improvements: emails scroll better and some graphics look smoother and less jagged. But overall this update does little to make the Touchpad truly competitive.
Fixing the wrong things
We updated our test unit with the fresh 3.0.2 HP WebOS system update, which promised, among other things "increased system performance and stability." Beyond doing a poor job of improving performance, though, another problem with this update is that it seems to fix the wrong things. Of the 15 bullet points listed, few were things we were especially concerned about based on our usage of the TouchPad.
We ran the updated TouchPad through a core set of the PCWorld Labs' tablet performance tests. Unfortunately, the TouchPad's firmware update did little to speed up what was one of the slowest tablets we've ever tested—although it did improve things ever-so-slightly. For example on our SunSpider JavaScript Benchmark tests, TouchPad improved its performance by 0.4 seconds, from 4.1 seconds to 3.7 seconds. But the fastest tablet on this test, the Acer Iconia Tab A500, performed the same test in just 1.9 seconds and competitors like the Apple iPad and Motorola Xoom clocked in at 2.1 seconds.
On our cold-start tablet start-up test, the TouchPad improved from 69 seconds to 65.8 seconds. That's still glacially slow, though, by comparison to the competition – the iPad takes just 26 seconds to start up.
The TouchPad's page load times were mixed. The TouchPad was faster in loading on one of our test Web pages, going from 8.3 seconds to 6.1 seconds. but the other page actually took 1.9 seconds longer (30 to the previously recorded 28.1 seconds). Again, the best times among tablets for these tests were far faster: 2.4 seconds for the first page and 6.4 seconds for the second.
And the file transfer speed performance was mixed, too. It actually took up to 8 seconds longer this time around to transfer 3GB of files from the device back to our PC.
Hands On With the WebOS 3.0.2 Update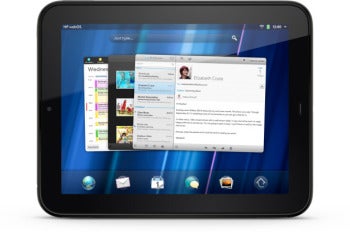 In my hands-on with the updated TouchPad, I found few improvements in how the tablet handles. The overall performance—including app opening times, page redraws as I navigated among apps, and movement among media files—felt at least as sluggish as before. I was frustrated by the lack of smooth transitions in the Photos & Videos app.
I did notice that some of the jagged edges and weird interface behavior I'd noticed at launch had been fixed: The bottom bar no longer jumps in the Photos & Videos app, and activity cards appear to have smooth, not jagged edges.
One good fix: The TouchPad's auto-rotation sensor is not nearly so finicky. Previously, you could cause the screen to auto-rotate with the slightest tilt; the constant reorientation very quickly became tiresome.
You can also now set an image as wallpaper. Unfortunately, you have no control over how the image gets positioned on the screen. Horizontal images look fine when you hold the tablet horizontally, but turn it to vertical, and the image gets chopped off and cropped in unexpected ways. Likewise, vertical images do fine vertically, and but the tablet zooms into them awkwardly when it's in landscape mode.
Among the other improvements HP promises from this update are improvements to e-mail, including faster scrolling (which did appear to be smoother and less juddery in my hands-on use), improved presentation of messages, and improved management of multiple emails in the Draft and Outbox views. In music playback, HP says the TouchPad will display album art better (it was not quite as pixilated in my testing), and that music won't skip as often when you're multitasking (I never experienced this problem with the original TouchPad).
The updated Photos & Videos app added "faster and more reliable handling of individual photos and albums," HP says, but I couldn't see improvements. In fact, this feature appears to stumble more than succeed. Folders of images I freshly transferred to the TouchPad tended to lag terribly as I swiped among them and the app required longer than before to render each image for the first time. Images looked a bit softer than they had when displayed on the TouchPad screen. I noticed some existing aliasing artifacts were fixed—but new ones had cropped up.
Bottom Line
HP surely will have more updates in the future, but our testing shows that this first major update doesn't go far enough to fix the TouchPad's performance woes. The company has dropped the price on the TouchPad by $50 to drum up interest, but TouchPad owners would be better served by a software fix that really revs this tablet's engine.