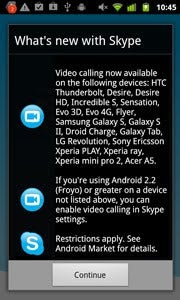 Skype launched an updated version of the video chatting software for Android smartphones, which now includes support for tablets and the most popular phones running the OS. Samsung Galaxy phones, HTC, and Sony Ericsson devices can now do Skype video chat, as well as the Galaxy Tab and Flyer 7-inch tablets.
When Skype brought video chatting on Android it drew criticism that only a handful of phones were initially supported, leaving out popular Android phones from Samsung and HTC. This issue seems to be resolved with version 2.1 of Skype for Android, which added support for 17 popular devices. The app is now available to download from the Android Market and works over both Wi-Fi and 3G connections.
[Android Phones on the Skype List]
Some caveats still exist on Skype for Android. If your phone has not received the Android 2.3 Gingerbread software update, you won't be able to use the front-facing camera on your phone–that's because Android 2.2 (Froyo) only allows the back camera to work, Skype said.
If you really want to use Skype for Android, but your phone is not on the supported devices list, you should still be able to enable video calling in the Skype settings (just go to "Skype settings" after launching the app and select "enable video calling"), but only if you are using Android 2.2 or newer. Skype warns that in this case, video call quality may not be as good as on a certified device.
Skype also launched this week a tablet-optimized version of the app for iPad owners.
Follow Daniel Ionescu and Today @ PCWorld on Twitter