Facebook is tinkering with our news feeds in order to give marketers and developers more visibility. According to the Wall Street Journal, the changes may allow the social networking site to gather even more information on its users.
Both advertisers and developers are vital the the overall success of Facebook, but they argue the current system isn't working. Yes, we see what our friends are 'liking,' but wouldn't we be more engaged or prompted to use these applications or interact with these advertisers if our friends are also using them?
Facebook has confirmed that it conducting tests of an even more intrusive news feed on a limited basis. I can confirm this personally: I've seen my friend's comments to pages and such placed in my feed like any other status. A little odd, yes: but I guess they think it will make me more likely to check those pages out (it doesn't).
The company may also be ready to expand its "Like" button to other concepts, the WSJ claims, such as a "Want" or "Need" button, and so forth. Obviously, this could provide Facebook with some useful information on you–after all, it's already using your likes as advertising fodder.
Say you click the new "Want" button on the new car of your dreams. It's not brain surgery to expect that Facebook would want to serve you car ads. Sure sounds like Beacon redux, don't it? Except this time, you have a little bit more control over what the site is sharing with your friends!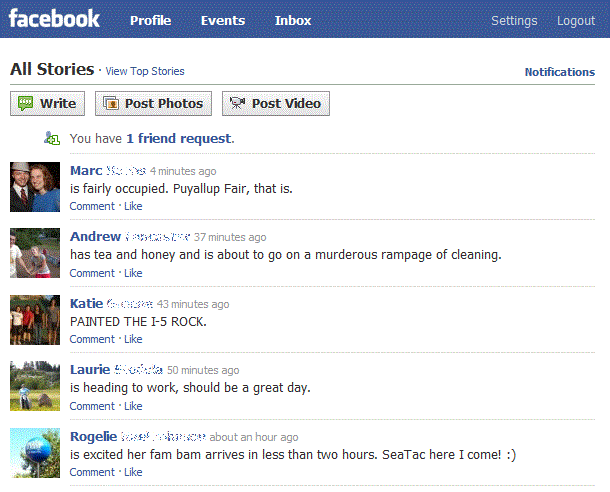 It's not immediately clear as to when Facebook plans to implement these changes on a large-scale basis. The WSJ and others have suggested these news feed changes will be announced at the company's annual F8 developer conference. While 2010's event was held in April, a date for this year has not been set.
Truthfully, I am not too happy with the way this is going. Facebook seems to be taking the same path Google did up until Google+. Both companies seem to be making changes to their sites in efforts to collect massive amounts of data on their users, and are giving the users very little choice in the matter.
I believe a key reason why Google+ has seen success so quickly is feeling it gives the user that the data you share is indeed yours, and you choose how it is used. While this could change, for now it's a breath of fresh air. Don't you think that Facebook could learn a few things from what Google is doing?
For more tech news and commentary, follow Ed on Twitter at @edoswald and on Facebook.