Google brings the Gmail Web interface for iPad to desktop computers and adds preview panes to its webmail service. If you have used Gmail on an iPad (or Android tablet), the new Gmail preview panes will look and feel familiar, with a few added perks for the big screen.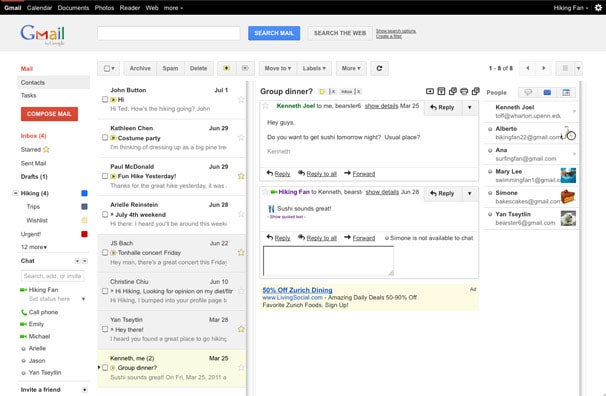 You can enable the preview pane feature from the Labs tab in Gmail Settings. If you haven't activated the Google+ inspired Gmail themes, the two features look good combined. Once activated, you can toggle the preview panes from the top right corner of your message list.
Gmail Associate Product Manager explained the reasoning behind the new Gmail Labs feature: "When I check my email, I often rely on the message snippets to figure out which messages to open first. Sometimes, though, I want to see more than snippets."
Other Features
Besides the new three-pane vertical view in Gmail, you can also chose to have a horizontal split, which will show you a regular list of messages at the top, and a preview for the selected one in the lower half of the window.
Similar to desktop email software, Google added a default three-second delay in marking a conversation as read when you preview it. This duration can be changed from the General settings tab in Gmail. You can also fully revert to the old Gmail interface if you decide preview panes are not for you.
Follow Daniel Ionescu