How low can HP's TouchPad go? Over the last week, the WebOS tablet has seen three discounts and price cuts, each one deeper than the last.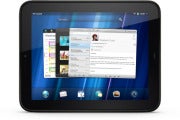 HP started offering $50 instant rebates on its 10-inch TouchPad last Friday, bringing the 16 GB model's cost down to $450. That seemed like a decent deal until Wednesday, when PreCentral reported that the HP TouchPad's price would drop by $100 for this weekend only, starting on Friday.
But the discounts don't stop there. For today only, Daily deal site Woot is offering the 16 GB HP TouchPad for $380 while supplies last. As of this writing, the deal is still available.
The TouchPad got a cold reception from reviewers when it launched in June. PCWorld's Melissa Perenson wrote that the TouchPad "suffers from cumbersome design, performance lags, and a poor app selection." HP fixed some of the performance issues in a recent software update, but the TouchPad's lack of apps and physical resemblance to a first-generation iPad are still sticking points.
The TouchPad does have some features that the iPad lacks, like powerful multitasking, a resizable keyboard with numbers, and Facebook photo integration. But as HP and other tablet makers are discovering, frilly extra features are a tough sell compared to Apple's giant arsenal of apps.
HP has a lot at stake here. WebOS was the main reason the company bought Palm for $1.2 billion. HP saw the success Apple was having by owning both the hardware and software, and aspired to become a similar company. ("I hope one day people will say 'this is as cool as HP', not 'as cool as Apple'," HP CEO Leo Apotheker told the BBC in January.)
But HP can't be as cool as Apple if it doesn't put its WebOS products in people's hands. That means deep discounts, and while they're temporary for now, I'm guessing we'll see permanent price cuts in the future.
Maybe if you wait long enough, HP will just start giving them away.
Follow Jared on Facebook and Twitter as well as Today @ PCWorld for even more tech news and commentary.