Web-based videos are great…when you have an Internet connection. If you're offline, however, online videos aren't much use. Unless you've already put Real Networks' RealDownloader to use, that is. This free utility lets you download a variety of Web-based videos with a simple click, so you can save them for viewing later.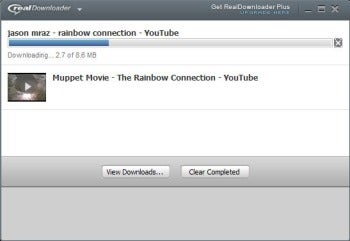 RealDownloader works with Google Chrome (4.0+), Mozilla Firefox (3.0+), and Internet Explorer (6.05+), and once installed, appears as a small link above Web-based videos. It says "Download this video," and when you click on it, it does exactly that: downloads the video and saves it in a RealDownloader folder for offline viewing. It's a more streamlined approach than that of rival Freemake Video Downloader, an app that requires you to copy URLs and then paste them in the app for downloading.
RealDownloader will download videos that are in Flash or Quicktime formats, which the company says is the majority of online videos today. It will not download content from sites like Hulu, which offer premium or protected content. In my tests, I noticed that the "Download this video" link still appeared on Hulu, as well as several network sites offering full episodes of TV shows, but the downloads did not work correctly: instead of downloading the actual episode, it only downloaded the brief intro that appeared before most of the shows, which tells you that the program is being offered with limited commercial interruption. Freemake Video Downloader was able to download content from Hulu in past versions (as noted in our review of version 2.01, but in my tests of the current version, 2.1.7, content from Hulu would not download at all. It was, however, able to download content from ComedyCentral.com, which RealDownloader didn't capture.
Downloading videos with RealDownloader isn't exactly speedy: it took me about a minute and a half to download a 3:30 minute YouTube video. Downloading a similar video using Freemake took less than 30 seconds. The $40 RealDownloader Plus promises faster video downloads, as well as the ability to convert videos for playback on mobile devices and the ability to download videos directly to you iTunes library. The free Freemake Video Converter offers similar conversion tools, but it runs as a separate application. You should also note that while your playback quality may be better offline, as you won't be waiting for videos to buffer, the quality will be limited by the quality of the video itself. Let's just say that many YouTube videos are played in small windows for a reason.
The functionality of RealDownloader is already built in to RealPlayer, so if you use that app, you won't need this one, too. And RealDownloader isn't going to help you build a collection of premium Web content. But if you're looking for a lightweight app that makes it easy to build an offline library of certain online videos, RealDownloader could be the app for you, thanks to its streamlined interface. But while Freemake Video Downloader is slightly more cumbersome to use, that flaw may be worth it if you want access to more video sites.