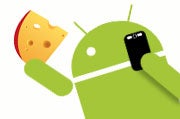 OmniVision is making camera phones even smaller–again. This time the mobile camera sensor maker is promising an quarter-inch, 8-megapixel OV8850 CMOS sensor that the company says is "20 percent" slimmer than any competing 8-megapixel module.
The new even smaller form factor comes courtesy of its 1.1-micron OmniBSI-2 pixel architecture. Besides being smaller, OmniVision says the sensor is even better at pictures with a "20-percent improvement in peak quantum efficiency in all color channels, a 35-percent improvement in low-light sensitivity and a 45 percent increase in full-well capacity."
OmniVision also says that the new camera can handle advanced features such as an automatic white balance, two phase lock loops, context switching, and bracketed exposures for high dynamic range photos and video. The OV8850 can take 30-fps video at 1080p or 60-fps at 720p.
The new sensor is due for sampling beginning this August and mass production is expected in the first four months of 2012.
[PR Newswire via MacRumors and Gizmodo]
Like this? You might also enjoy…
Get your GeekTech on: Twitter – Facebook – RSS | Tip us off