Meet the Firefly.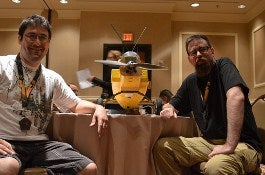 Israeli defense contractor Rafael Armament Development Authority calls it a "revolutionary concept in tactical intelligence," but really it's a wireless camera that's shot 500 feet in the air by a grenade launcher. And if a couple of hackers here at the Defcon hacking convention get their way, soon anyone will be able to buy this type of military grade technology for only US$500.
The Firefly can make the difference between life or death on the battlefield. Soldiers shoot it off and for eight glorious seconds it gives them a bird's eye view of the terrain around them, tipping them off to enemy positions. Then it crashes back to earth.
Private citizens can't buy these flying cameras, much less the 40mm grenade launchers used to shoot them. But Vlad Gostom and Joshua Marpet think they'd be great tools for a search and rescue operation, or maybe a boon to some local police force's SWAT (special weapons and tactics) team. So they're building their own version and showing off what they've learned at Defcon this week. (See also Security, Hacker Conferences Have Technology Industry Buzzing.")
Their first test — launched from a 37mm flare gun last week at a neighbor's farm — wasn't exactly a raging success: The powder didn't fully ignite, the miniature camera flew about 30 feet into the air — apparently too fast to transmit images back to the 5.8Ghz wireless receiver they were using — and their parachute partially incinerated. But hey, it's a beta product, and this was their first launch, a learning experience. With a few more months of tinkering, the hackers hope to have a workable prototype that will rocket 250 feet in the air. "This was a good version one," Marpet said in an interview at Defcon.

They're not the only people who have military-styled do-it-yourself technology on display at Defcon. Using off-the-shelf components Mike Tassey and Rich Perkins converted a surplus U.S. Army drone into a flying wireless surveillance station that could be used to snoop on wireless networks or even mobile phone conversations.
"Hackers have military tech envy, so they go about trying to replicate it," said Jeff Moss, Defcon's founder.
To the drone airplane makers, it's simple human nature. "Everybody wishes they could have an F-22, no matter what they say," Tassey said.
In addition to the spy drone and the grenade-launched camera, there is also software that could turn thousands of mobile phones into a spontaneous wireless network capable of passing messages around without the Internet or a cellular network. Creator Thomas Wilhelm calls his project Auto-BAHN, and on Saturday, he released Android software that uses Wi-Fi and Bluetooth to help information hop from phone to phone.
It turns out that all three of the Defcon hacking teams think that their projects could save lives. Tassey and Perkins say the drone could be used to locate mobile signals from survivors after a disaster like Hurricane Katrina, and Wilhelm sees his project doing similar work. Once they've downloaded Auto-BAHN software, mobile phone users will have a way of connecting to other Auto-BAHN phones within Wi-Fi or Bluetooth range — and passing on messages with a click of a button. "The idea is that under emergency circumstances you can get information to the proper emergency responders when there is no telecommunication network online," Wilhelm said.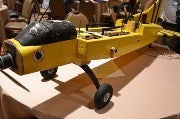 And grenade-launched camera maker Vlad Gostrom was inspired to work on the device by his time as a ground search-and-rescue specialist with the U.S. Civil Air Patrol in New Jersey. In the bush of the Pine Barrens, teams would constantly hit areas that they just couldn't search over, leaving holes in their search coverage. "Everyone likes to report 100-percent coverage," Gostom said. "This would allow someone to actually achieve close to 100-percent coverage without going into a hazardous environment."
These projects may never make it beyond the prototype stage, but they show that a good idea is just too hard for many hackers to resist. "More and more, people are finding out that the hacker community is not just about breaking things," Wilhelm said. "It's about fixing things."
Robert McMillan covers computer security and general technology breaking news for The IDG News Service. Follow Robert on Twitter at @bobmcmillan. Robert's e-mail address is robert_mcmillan@idg.com.