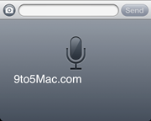 A few new screenshots hint that iOS 5, just released in beta to developers, may be getting that speech-to-text functionality we've been hearing about for months now.
The images were sent to 9to5Mac from a "reliable source" and show a microphone icon next to the space key in the iOS keyboard. 9to5Mac reports that users can activate the new feature (when it's available) by clicking on the microphone icon and talking. The software will then populate the text field with whatever words were spoken.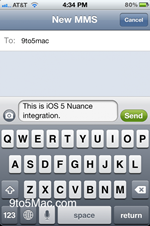 9to5Mac's source says that speech recognition software, which is currently in beta testing, is "only planned" for the iPhone and iPod Touch at the moment, but iPad support could be on the horizon.
PC Magazine's Leslie Horn points out that rumor has it the next iPhone could take speech-to-text to the next level with fully-integrated voice control. Horn reports that a feature called Assistant could use information stored on the phone to "satisfy verbal requests" and might even talk back to you. The feature is expected to be based on Siri, a voice search App Apple acquired in 2010.
The long-overdue addition of speech-to-text functionality to iOS is typical Apple behavior. The company isn't afraid to hold features until it is convinced they are ready for prime time. One thing is for sure; its competitors (here's looking at you, Android) will be losing another feature advantage over Apple's consumer-preferred operating system.