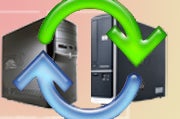 Roscoblunt's friends call him with their computer questions. He asked the Desktops forum to recommend a free program for remote help.
Helping your friends with their computer problems improves your friendships, your self-esteem, and your karma. But if your friend-in-need is too far away for you to conveniently visit, solving their tech problem can be like painting the Mona Lisa blindfolded.
Remote control programs can go a long way towards removing that metaphorical blindfold. They allow you–with the user's permission, of course–to see what's on your friend's screen and even take control of their computer.
The problem: You have to get the remote control program up and running on their computer before you can help them. You may find yourself wishing that your friend already had a remote control program set up so you could use it to help them set up the remote control program.
That's why I'm recommending two remote control services. They're both easy to set up, even for a novice. But if one of them doesn't work properly, you can switch to the other.
Try Windows Remote Assistant first. It comes with Windows, so your friend won't have to install anything. If they're using Windows 7 or Vista, just tell them to click Start (you might actually want to describe it as "the blue circle in the lower-left corner"), type Remote Assistant, and select Windows Remote Assistant.
Things are more complicated with XP. Have them click Start, then Help and Support, then Invite a friend to connect to your computer with Remote Assistance .
Your friend will have an opportunity to email you a file that, when you double-click it and enter the correct password, will access their PC.
The XP, Vista, and Windows 7 versions of Remote Assistance look different, but are compatible with each other.
If for some reason Remote Assistance doesn't work (and that was the case with one of five configurations I tested), try Skyfex, instead. This is a web-based solution–neither you nor your friend will have to download and install anything except a browser add-on–and that happens automatically. Skyfex will give your friend a six-digit number that they must pass on to you so that you can see and access their computer. As the expert, you'll need a Skyfex account; your friend will not.

The free version of Skyfex is limited to 30 minutes per session, and remote control will only work for ten of those minutes. You'll have to buy the Pro version to get more.
My thanks to LiveBrianD for reminding me about Remote Assistance in the original forum discussion.
Contributing Editor Lincoln Spector writes about technology and cinema. Email your tech questions to him at answer@pcworld.com , or post them to a community of helpful folks on the PCW Answer Line forum . Follow Lincoln on Twitter .