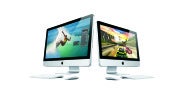 Before you get too excited over the news that Apple has released a new version of the just-refreshed iMac that's selling for the low price of $999, you might want to consider the fact that in order to buy one, you'd first have to establish yourself as an educational institution. It's not for sale to individuals.
And even if you manage to pull that off, you might rethink your choice after comparing the specs.
Processor
Education-Only: 3.1GHz dual-core Intel Core i3
Standard: 2.5GHz Quad-Core Intel Core i5
Memory
Education-Only: 2GB (one 2GB) of 1333MHz DDR3 SDRAM
Standard: 4GB (two 2GB) 1333MHz DDR3 SDRAM
Storage
Education-Only: 250GB hard drive
Standard: 500GB hard drive
Graphics
Education-Only: AMD Radeon HD 6750M with 256MB
Standard: AMD Radeon HD 6750M with 512MB
Even more glaring an omission, the education-only iMac doesn't come with Apple's much-hyped Thunderbolt port, nor does it handle Bluetooth.
But even if this new education-only iMac is half-baked, on par with Apple's totally lackluster back-to-school special this year (boring ol' gift cards instead of iPod touches), and only $200 cheaper than the entry-level iMac, you have to consider that educational institutes will be purchasing these computers in bulk; so while $200 off one machine doesn't impress, $200 off hundreds of machines does.
Also consider that Thunderbolt is a new technology and there are barely any products on the market that are compatible with it — especially affordable products, which is the name of the game in education — so iMacs in the computer lab don't really need a port that kinda just sits there.
Either way, educational institutions will likely buy up these sub-$1,000 iMacs no matter what they did or did not come with.