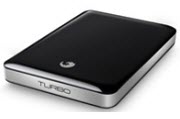 Hard drive crashes are a nightmare for computer users for many reasons. Not only can data held dear to one's heart be lost, but trying to recover it can cost an arm and a leg, if not more. Hard drive maker Seagate attempts to address both those problems with the release today of its GoFlex Turbo drive with SafetyNet data recovery services.
Seagate claims SafetyNet data recovery is the first recovery service offering by a hard drive manufacturer to be included as part of the purchase price of an external drive.
"With this new GoFlex Turbo performance drive, it is our aim to provide more peace of mind for the people who choose Seagate to back up and store their valued digital assets," Patrick Connolly, vice president and general manager of Seagate's retail product group, says in a statement. "When our products are used as a backup to a primary system or even as supplemental storage, people should know that they can get a further layer of assurance that their data will be there when they need it."
The new turbo drives are available from electronics mega mart Best Buy for a suggested retail price of $119.99 for a 500 gigabyte drive and $139.99 for one with 750GB.
The new 7200 RPM drives support the USB 3.0 standard, which is backward compatible with USB 2.0, and are 40 percent faster than USB 2.0 drives operating at 5400 RPM.
Along with increased speed, the new drives come with two years of coverage under Seagate's SafetyNet service (SRS). However, only one data recovery incident is covered in the plan. What's more, Seagate warns "not all data may be recoverable." It is also available only in the United States.
Data recovery with the service may be accomplished either remotely or by shipping the drive back to Seagate. Usually, if the drive is operational, files can be restored over a broadband connection. If the drive is making unusual sounds or exhibiting flaky behavior, chances are it'll have to be shipped back to the shop.
If the drive needs to be sent to Seagate's labs for recovery, don't expect to get it back, the company cautions."SRS will not return your original device since it typically will be rendered inoperable as a result of the recovery attempt," the terms and conditions for the program state. "Your original device will be subject to secure disposition following a recovery attempt," they continued. "To the extent possible, you should back up accessible data on the device before sending it back to SRS."
In the case of remote recovery, Seagate pledges to make every effort to perform the data recovery within seven days of a case file being opened on the incident. The lab turnaround time could take up to 14 days from the time the drive arrives at the lab, according to the terms and conditions of the program.
Follow freelance technology writer John P. Mello Jr. and Today@PCWorld on Twitter.