Career criminal Willie Sutton was often quoted saying that he robbed banks "because that's where the money is." The legend sounds good, but Sutton actually said in his biography, "Go where the money is…and go there often."
No doubt many cybercriminals are taking note, and as Android devices gain market share, they are attracting more interest from cybercriminals. According to comScore, Android phones comprise more than 40 percent of the U.S. smartphone market, and users are 2.5 times more likely to encounter malware than just six months ago.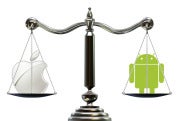 Android phones, which are now available on all of the big four networks (AT&T, Sprint, T-Mobile, and Verizon) as well as on smaller, prepaid carriers, also cost from $50 to $300, meaning that users on a variety of budgets are using the Google OS. Android's popularity with consumers also makes it a bigger target for criminals.
This year has seen many old tricks of the trade heading to new platforms, such as porn scams targeting smartphones. The old-school tactic was used in the dial-up days to get infected computers to call premium numbers, and now scammers are targeting smartphones. Android users are also likely to encounter traditional web-based threats as phishing scams and browser exploits.
A greater threat could be malverstising, a threat that continues even with legitimate websites, where ads served through legitimate apps can lead to fake Android market where users might download malware. Android remains a serious threat because it is an open platform.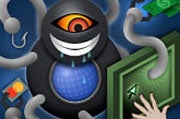 On the other end of the spectrum Apple's closed platform is also seeing a rise in threats. Famous Apple hacker Charlie Miller recently showed how microcontrollers, the tiny chips that regulate everything from the battery in a laptop to a car, can be taken over. Miller, who is also a security researcher, found that Apple laptop microcontroller chips are shipped with default passwords, and once discovered can be used as a hiding spot for malware. The danger says Miller is that this goes way beyond traditional hacks, as the battery could be disabled or even blown up.
While Miller also contends that the Max OS X security is better than ever, the truth is that PC users aren't the only ones facing these threats of cyber attacks.
Peter Suciu writes about technology trends for small business, but has an appreciation for the Victorian Age when the telegraph was the information superhighway. After living in New York City for 18 years, he now resides in more rural Michigan.