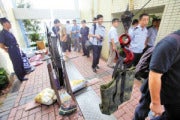 Chinese police arrested six culprits in the act earlier this month as they smuggled over $40,000 in Apple gear into China via an ingenious zip-line set-up. The criminals were caught during an attempt to smuggle over 50 iPads and just as many iPhones over the border.
Chinese smuggling operations are nothing new. In fact, we've seen a few iPad smuggling rings before, since favorable tax and exchange rates mean that each iPad smuggled in to China can net an enterprisingly criminal more than a hundred dollars in profit. This is however the first time we've seen smugglers use such elaborate and creative methods.
How the Electronics Arrived
The smugglers attempted to move their contraband electronics across the border from Hong Kong into Shenzen province. One part of the group fired a more-than-300-yard zip line by crossbow from a high-rise in China back over the river into Hong Kong. They then dragged a canvas bag filled with the contraband Apple goods by another segment of the group stationed in Hong Kong across the border via a pulley system.
To try and avoid attention, the smugglers made their drops in the early hours of the morning. Unfortunately for them, though, the bag was spotted by authorities as part of a surveillance operation, and they were quickly arrested by Chinese police. The recovered Apple gear and the smuggler's ingeniously low-tech system were both shown off in a Chinese news report on the arrests. Take a look:
The approximate value of just this single drop was $46,583 but, since the smugglers were caught as part of a major surveillance operation, it's hard to say how long the group may have operated or how much money they may have already made using their DIY smuggling rig.