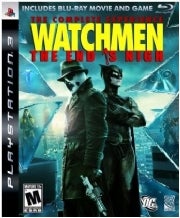 In what appears to be a ramp-up of celebrity support, famous graphic novel author Alan Moore Monday issued a statement in praise of PFC Bradley Manning. Manning is the G.I. accused of leaking classified U.S. government documents to WikiLeaks.
"With any legitimate trial of whistleblower Bradley Manning still being at an unspecified date in the future, it would seem that what is presently on trial here is Western culture itself," said Moore, author of such critically acclaimed works as Watchmen and V For Vendetta, which contains the Guy Fawkes iconography adopted by the hacktivist group Anonymous.
"When the persecution of an individual who has exposed an evil is pursued so ruthlessly and yet the evil itself is studiedly ignored, all of us know that there is something very wrong with the way that our society is conducting itself," Moore maintained. "And if we do not protest in the strongest terms about what is being done in our name, then we become complicit."
"There is no third option," he argued. "Bradley Manning and others like him everywhere are vital to our continued moral health and well-being as a people, and unless we offer them our full support in their often dire and isolated circumstances, it is we, as a people, who will end up the losers."
A spokesman with Beyond the Choir, a grassroots mobilization group that supports the Bradley Manning Support Network (BMSN), predicted more celebrity support for the soldier turned whistleblower in the near future. "We kind of anticipate that these types of things are going to be rolling in as we get closer to pretrial," spokesman Matt Smucker told PC World.
Smucker could not explain the timing of Moore's statement, but he did observe: "It's clear from his work that he is somebody who is politically astute. He's someone who follows issues of freedom and democracy."
"Fans of Alan Moore love his work, not only for creating bold characters and gripping story-lines, but also for demonstrating the power of ideas," BMSN Co-founder Jeff Paterson said in a statement. "We welcome his support and the support of so many others around the world who are demanding justice for Bradley Manning."
Manning was arrested last July, following a government investigation into the leaks, a probe aided by a well-known hacker, Adrian Lamo.
Although a date hasn't been set yet for Manning's trial, a grand jury has been convened in Alexandria, Va. since May probing into Manning's alleged leaking of hundreds of thousands of classified documents to WikiLeaks, which subsequently published many of them to the Internet.
Those proceedings spurred protests in Boston and Alexandria when the BMSN's other co-founder, David House, was called to testify before the secret panel. House refused to answer questions put to him by the government based on his Fifth Amendment rights.
Following his appearance before the grand jury, House issued a statement condemning the Justice Department. "Using Nixonian fear tactics that were honed during the Pentagon Papers investigation, the DOJ is attempting to dismantle a major media organization-WikiLeaks–and indict its editor, Julian Assange," he declared.
Follow freelance technology writer John P. Mello Jr. and Today@PCWorld on Twitter.