Acer plans to rival the MacBook Air this October with a new 13.3-inch Ultrabook laptop featuring Intel Core Sandy Bridge chips, longer battery life, and solid-state or hard disk storage options, according to the latest rumors. The supposed Acer Aspire 3951 is clearly a MacBook Air-inspired device including design choices such as silver aluminum casing, large trackpad, and chiclet keyboard. Images of the purported new laptop recently leaked online through the Vietnamese site Sohoa.
Rumored specs for the Aspire 3951 include the previously mentioned 13.3-inch display (no word on resolution), Sandy Bridge Core i processors, 6 hours of battery life, 30 days of standby time, less than two seconds of response time from sleep, Bluetooth 4.0, HDMI and USB ports, Dolby Home Theater sound, and a card reader. Storage options include a 160GB SSD or an HDD with either 250GB or 500GB capacity. The new laptop reportedly measures about 0.51 inches thick (the Air measure 0.68-inches at its thickest point) and weighs less than 3.10 pounds. No word on pricing, but Ultrabooks are supposed to be priced at less than $1,000.
All about Ultrabooks
Intel in May announced a new class of ultraportable laptops called Ultrabooks that would feature
longer battery life, be less than 0.8-inches thick and priced at less than $1,000. The first round of Ultrabooks should hit shelves this fall with Sandy Bridge Core i5 or i7 laptops. In early 2012, the new laptop class will switch over to Ivy Bridge chips — Intel's follow-up to Sandy Bridge and the first Intel chips to use the company's new 22-nanometer (nm) manufacturing technology.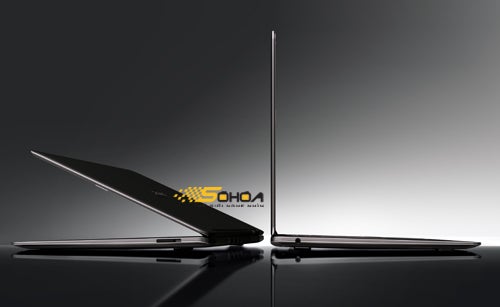 So far, only Asus has officially announced an Ultrabook called the UX21. Asus' ultraportable laptop shares similar features to the rumored Aspire 3951, especially when it comes to design. Asus' 2.4-pound laptop has a unibody design, measures 0.67-inches at its thickest point, and can support up to a Core i7 processor. The UX21 features an 11.6-inch display with 1366-by-768 resolution, glass trackpad, mini-HDMI, one USB 2.0 port, and one USB 3.0.
Just like the rumored Aspire 3951, the UX21 is very much inspired by the MacBook Air, which is nice if you're a Windows user looking for something sleek to tote around town. But considering Apple's current suit against Samsung over ripping off the iPhone's look and feel, you have to wonder how the Mac maker will react to two (and possibly more) Air clones hitting store shelves by the end of the year.
Connect with Ian Paul ( @ianpaul ) and Today@PCWorld on Twitter for the latest tech news and analysis.