We knew it was going to happen, but Nokia's finally made it official: the company is killing off Symbian in North America. Nokia president Chris Weber revealed the (soon) death to AllThingD's Ina Fried on Tuesday.
Weber said that the company plans to exit both the low-end and Symbian smartphone business in the region as part of a broader effort to focus on Windows Phone 7. I'm not sure if that move is a good one: so far, Microsoft's new mobile operating system has not sold so well.
It appears, from Weber's comments, that Nokia is putting a lot of stock into Windows Phone 7, and is figuring that if they don't do well in North America, they won't do well elsewhere. Weber explained that Nokia sees the North American market as key to winning the smartphone battle globally.
As part of Nokia's newfound Windows Phone 7 strategy, you should expect to see a bigger advertising presence for the company real soon. Nokia hasn't provided specifics, but the upcoming campaign is reportedly the company's biggest ever.
"They're putting their money where their mouth is," Weber told AllThingsD.
Nokia's attempt to regain its momentum here should be interesting to watch. Many of you probably remember that the company had nearly a third of the market less than a decade ago, but that its insistence on utilitarian design hurt it. After all, in the smartphone market style is almost as important as function.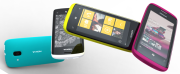 It will also be interesting to see if Nokia can repair its poor relationship with carriers. Due to Nokia phones' slow sales, many carriers decline to carry the devices or refuse to subsidize the cost–this means that Nokia devices were and are much more expensive than competitors' similarly-featured devices.
Is this a wise move for Nokia, putting all of its eggs in the Windows Phone 7 basket? I'm not so sure. After all, I've seen little proof that Windows Phone 7 can sell in this market–regardless of the hardware. What happens if this doesn't work?
Nokia appears to be putting its entire phone business in a dangerous position, with very little room for error.
For more tech news and commentary, follow Ed on Twitter at @edoswald and on Facebook.