Reports are swirling that the hacktivist group Anonymous plans to "destroy" Facebook on Nov. 5, but something seems a little fishy about the claims.
[Related: Anonymous Allegedly Threatens to 'Kill' Facebook]
First off, there's the video announcing the operation, embedded below, which sports the same logo and robotic voice as previous Anonymous video releases, but the production value overall is far lower than others from the group. It was posted on YouTube almost a month ago under a new account, "FacebookOP," and seems to have languished there without receiving much attention from the press or Anonymous' own promotional outlets until reports in German and Spanish-language media picked up the story this week and it quickly spread from there.
The clip also has loftier goals than the typical Anonymous operation, touting plans to "destroy" the massive social network as revenge for its privacy policies, claiming that deleting a Facebook account is impossible because the company can recover even former users' personal information. The video also alleges Facebook has given information to government agencies and security companies, including "some who work for authoritarian governments such as Egypt and Syria".
So far, Anonymous' campaigns have involved extracting data from servers, defacing webpages or denial of service attacks, but none have attempted to fully destroy a site, at least none that have been reported. Even a temporary outage or slow-down of Facebook would be a significant undertaking.
Finally, there's the apparent disavowals of the operation by certain Anonymous channels. Just as the first wave of English-language stories on the Facebook threat were going live Tuesday, this message was being retweeted like crazy: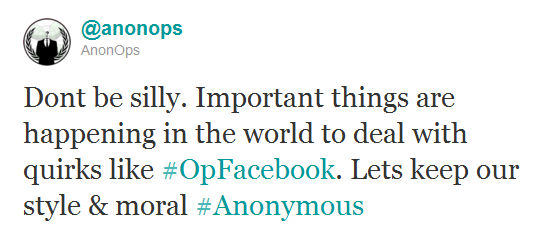 And then this morning from @anonops: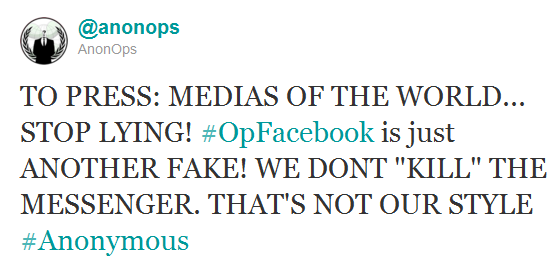 Security experts like Eugene Kaspersky have also expressed doubts that the threat is legit. Nonetheless, while the total annihilation of Facebook may be a far-fetched anarchic hacker's fantasy, accessing and making sense of its immense database of personal user information could be a more realistic hacker's holy grail, and something to give all of us pause.