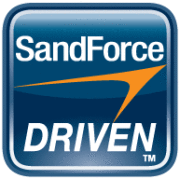 One of the main drivers behind the high price of ultrathin or ultraportable laptops is the steep cost of their solid state drives, but that might all be changing soon. SandForce, the company responsible for the processors in many of the drives, announced a breakthrough manufacturing process that should result in more affordable solid state drives – and the laptops that use them.
According to SandForce, the SF-2000 processor being demoed inside Toshiba's new MLC flash storage is the first 24 nanometer flash memory to be introduced. This smaller manufacturing process means Toshiba and other solid state drive manufacturers will be able to fit more storage into the same amount of space. According to SandForce, "This product combination enables SandForce Driven SSD manufacturers to produce more affordable SSD products which will further accelerate adoption in the enterprise, client, and industrial computing markets that demand optimized reliability, performance, and power efficiency."
This is great news for consumers in general, and especially for those looking to get a new laptop in the near future. Intel wants Ultrabooks to be priced at under $1,000, but recent reports indicate this might not happen for at least Asus' and Acer's upcoming Ultrabooks. Perhaps cheaper SSDs will be the tipping point for Ultrabooks and other ultrathin laptops.
Follow Melanie Pinola (@melaniepinola) and Today@PCWorld on Twitter