The UK government is considering cutting off social networks and messaging services such as Twitter and BlackBerry Messenger at times of social unrest. The controversial plans come after riots have spread from London to several other large UK cities.
"Everyone watching these horrific actions will be stuck by how they were organized via social media," said the country's Prime Minister David Cameron in a statement. "When people are using social media for violence we need to stop them," he added, "so we are working with the police, the intelligence services and industry to look at whether it would be right to stop people communicating via these websites and services when we know they are plotting violence, disorder and criminality."

More than 1300 people have been arrested since rioting broke out in London on August 6, which has forced many UK courts to work 24 hours. BlackBerry Messenger on BlackBerry phones, along with Twitter and Facebook, are said to have been widely used by the rioters to organize themselves. BlackBerry Messenger also offers some protection by scrambling communications in transit, and sometimes also allows users to encrypt communications.
BlackBerry maker Research In Motion already said earlier this week that it is cooperating with UK officials to access data related to the riots. Hacker group TeaMp0isoN (Team Poison) did not approve of RIM's cooperation and hacked the BlackBerry official blog, threatening to access and release information from RIM's employee database should the company help police identify rioters.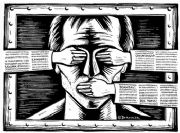 Civil rights campaigners criticized Cameron's idea to switch off social networks and communication services at times of social unrest. Jim Killock of Open Rights Group said, "We do not believe this should be given any serious consideration. Clearly, a service will be used by people for legitimate activities, some of which will in fact be to mitigate or deal with the problem encountered. In any case, innocent people should not be punished for the actions of others."
"We agree. It may be that, in exceptional circumstances, a court may order an [social media] account to be suspended, because it is being used for criminal activity, or to harass someone," Killock added. "Perhaps even more dangerous would be any proposals that would seek to undermine our right to use personal encryption keys. Personal encryption keys can prevent companies and governments from decrypting and viewing the messages."
Trying to identify many of the rioters and looters who have not been arrested, UK police have posted photos from the riots on Flickr, another move that drew criticism from human rights campaigners. Addressing critics, PM Cameron took a hard stance:"No phony human rights concerns about publishing photographs will get in the way of bringing these criminals to justice. Anyone charged with violent disorder and other serious offenses should expect to be remanded in custody, and anyone convicted should expect to go to jail."
Follow Daniel Ionescu and Today @ PCWorld on Twitter
Note: When you purchase something after clicking links in our articles, we may earn a small commission. Read our affiliate link policy for more details.