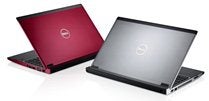 Dell on Thursday rolled out two new laptops for its Inspiron and Vostro lineups with prices that start at less than $600. The company says the new PCs are designed for users who want "ultramobile" and "ultrathin" laptops.
The 14z features modern specs such as a Sandy Bridge Core i3 or i5 processor and several USB 3.0 ports, but the device tips the scales at 5 pounds. The Vostro V131, meanwhile, may impress with its thin profile that measures 0.83 inches at its thickest point (the $1000 MacBook Air is a little thinner at 0.68 inch), but you'll have to deal with a much slower 1.1 GHz Celeron processor.
Dell Inspiron 14z

The best of the two new laptops, the 14z has a 14-inch display with 1366-by-768 resolution, your choice of a Sandy Bridge 2.2 GHz Intel Core i3-2330M or 2.3 GHz Core i5-2410M, and 4 or 8 GB RAM. Ports include two USB 3.0, one USB 2.0, mini DisplayPort, HDMI, and an SD card reader (also supports MS and MMC).
You also get a DVD player, 1-megapixel Webcam, 802.11 b/g/n Wi-Fi, Bluetooth 3.0. Storage options are a 500GB, 640GB, 750GB hard drive or a 128GB solid-state drive. The Inspiron 14z comes standard with Windows 7 Home Premium (64-bit) and pricing starts at $600.
Dell on Thursday also launched a 13.3-inch version of the 14z called the 13z, currently available only in Asia.
Vostro V131
The small business-focused Vostro V131 includes a 13.3-inch display with 1366-by-768 resolution, 1.1 GHz dual-core Intel Celeron 847 processor, up to 2GB RAM, a maximum 320GB hard drive, 802.11 b/g/n Wi-Fi, Bluetooth 3.0, and 3G and 4G mobile broadband options. Similar to the 14z, you get two USB 3.0 ports and one USB 2.0, as well as an 8-in-1 card reader and 1-megapixel Webcam. The Vostro V131 starts at $500 and runs Windows 7 Home Premium (64-bit).

If you're looking for a bargain-priced smaller laptop, the new 14z or V131 may fit the bill; but if you're willing to trade off the 14z's Sandy Bridge processor and USB 3.0 ports or the Vostro's thin profile, you can probably find a better value. A quick search on Best Buy, for example, shows the big box retailer is selling a 15.6-inch Dell Inspiron laptop with a non-Sandy Bridge 2.53 GHz Core i3, 4GB RAM and a 500GB hard drive for $400. There was also a similar Toshiba Satellite laptop with a Sandy Bridge chip for $380. The downside is both laptops tip the scales past 5 pounds and neither had a USB 3.0 port.
The Vostro V131 and the 14z are available online now from Dell.com.
Connect with Ian Paul (@ianpaul) and Today@PCWorld on Twitter for the latest tech news and analysis.