The Chinese city of Kunming has stopped 22 fake Apple stores from illegally using the company's iconic trademarks after Apple lodged a complaint with authorities.
Kunming authorities found 20 unauthorized Apple resellers, according to a Friday posting made on the city government's website. Currently, 11 of those resellers are being investigated. Two other stores were discovered for related violations.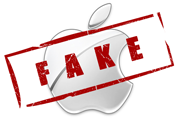 The city ordered all unauthorized Apple vendors to cease using the Apple trademarks by August 10, this past Wednesday. This included any decorative logos found on door entrances and clothes. All 22 stores complied with the demand.
Kunming authorities launched the investigation after Apple's Shanghai office sent a complaint on August 2, according to the government posting.
Apple did not respond to comment. Kunming's industry and commerce bureau could also not be reached.
News of Kunming's fake Apple stores appeared last month when a blogger posted photos from one of the vendors. The stores were built to closely match the decor of Apple's own official retail outlets, with employees even dressing similarly. The products sold, however, were said to be real.
Since the blog posting, the fake Apple stores have received unwanted attention from both the media and authorities. Kunming officials had launched an earlier investigation, in which they had found five unauthorized stores illegally using the Apple logo. Two stores were ordered to be shutdown.
Apple has become one of the most popular brands in China, according to analysts, with the company's products proving to be a hit among consumers. Last month, Apple COO Tim Cook said the company's revenue from China for this past quarter increased by more than six times from the same period last year.
But while Apple uses its own network of resellers in the country, the company only has four stores on mainland China, two located in Shanghai, the other two in Beijing. Long lines have formed at those retail outlets in the past when Apple launched its iPhone 4 and iPad 2 products, creating shortages for the products.