Acer on Friday started shipping a US$329 Iconia Tab A100 tablet, which the company says is the first tablet with a 7-inch screen to run Android 3.2.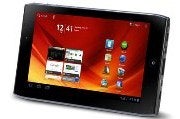 The Iconia Tab A100's smaller screen will bring Android 3.2 applications in a more portable form factor, Acer said in a statement. A majority of Honeycomb tablets available today come with 10.1-inch screens, including Samsung's Galaxy Tab 10.1 and Toshiba's Thrive.
Android tablets with 7-inch screens are already available, but most run older versions of the operating system. The Samsung P1000 Galaxy Tab with a 7-inch screen runs on Android 2.2, which is usually found in smartphones. Android 3.2 is also known as Honeycomb.
The A100 is the latest addition to a string of tablets from Acer. The company already offers the Iconia tablets with 10.1-inch screens that run Honeycomb and Windows 7. The company increased its focus on tablets in recent quarters as PC shipments slowed. Acer was the second-largest PC maker in the world in 2009, but slipped to the fourth spot during the second quarter this year because of a heavy commitment to the PC market.
Android 3.2 has a specialized user interface for tablets, which allows users to multitask and navigate between multiple applications. The OS receives e-mail and social networking feeds in a centralized location, and also has features for tablets to be used as gaming consoles.
The A100 runs on a dual-core Nvidia Tegra 2 processor, and provides four hours of battery life on regular Internet usage and four-and-a-half hours when playing high-definition 720p video, the company said. The device weighs 0.92 pounds (0.41 kilograms) and is 0.5 inches (12.7 millimeters) thick. The tablet has a rear-facing 5-megapixel camera and a front-facing 2-megapixel camera. Support for Adobe Flash 10.3 allows for video playback through a browser.
The tablet also includes an HDMI (high-definition multimedia interface) port so images can be mirrored on high-definition TVs. The device also includes a micro-USB port.
The device is available through retail stores in the U.S. It will become available in Canada next month for C$399 (US$405). It will also become available in Europe next month, though company representatives could not provide a price. The company could not comment on availability in other countries.