There is now slightly less mystery around the next version of Android for smartphones, Ice Cream Sandwich, which Google first announced in May. The update has been pictured in a few alleged screenshots leaked by RootzWiki and the Android Police blog this week.
The four images show Android Ice Cream Sandwich (ICS) running on a Nexus S handset. One of the most striking changes is that blue is the new Android green. A picture from Android Police also purportedly shows a new launcher and a revamped notification bar.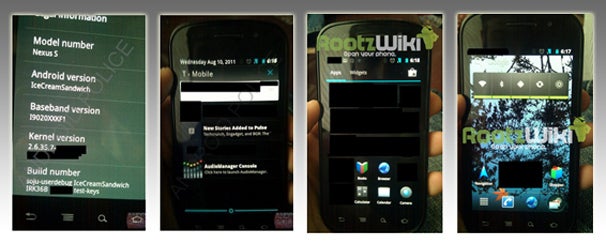 The blogs report the camera app on ICS has built-in panorama mode, and that a Google Shopper app will take advantage of NFC capabilities (on supported phones, such as the Nexus S). The Gmail app is reportedly set for a makeover as well, while the Google search bar is embedded at the top, as on Android Honeycomb (for tablets)–but these features are not pictured.
Debut to Take Place on a 3D Phone?
Two interesting tidbits of information also surfaced from RootzWiki and Android Police. The first one is that ICS will debut on a so-called Nexus Prime, an unreleased phone rumored to have an HD display and be manufactured by Samsung. The second is that Google has yet to decide what version number ICS will carry, as the beta software running in the alleged leaked pictures only shows Ice Cream Sandwich as version number.
Google itself gave very little away about Ice Cream Sandwich when it was announced in May. ICS is supposed to bring the best features of Honeycomb (Android for tablets) to mobile phones. Still, other than a few intriguing demos, Google did not disclose many details about the update, such as when it will be available, or which devices will be eligible to receive the update.
Follow Daniel Ionescu and Today @ PCWorld on Twitter