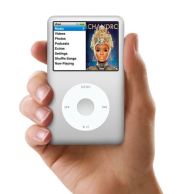 A Japanese website reports that Apple has a media event planned for Wednesday, September 7th to announce the company's new line of iPods. It also claims the iPhone 5 will ship in September or early October.
It's not clear if the new iPhone will be revealed the same time as the new iPods, according to the report, or at a separate event a few weeks later. Other conflicting rumors put the phone launch in either September or October.
The site, Kodawarsian, has accurately reported Apple rumors in past years, but I've been unable to confirm this one. The date does fall in line with Apple's pattern of releasing new iPods in the first part of September. This cycle has been a little different for Apple, however.
Normally it announces a new iPhone at its WWDC conference in June, but that didn't happen this year, further fueling the speculation of an early fall iPhone release. It would make sense to do the iPhone and iPod announcement at the same time, but it's tough to know what the logic is coming out of Cupertino is these days.
There has been additional speculation over the new iPod this year. First, there are the photos that emerged, apparently showing a new 1.3-megapixel camera for the iPod. Also, a drop in iPod sales have left others to wonder if it might be time to scale back the iPod family.
As for iPhone design rumors, there's not enough space to recount them all here, but you can get caught up quickly with our iPhone 5 rumor rundown.