You know what the world needs now? No, it's not love, sweet love. We need another social network. And that's what TwitPic founder Noah Everett wants to give us — but with a twist. Everett's idea for a new social network is Twitter — TwitPic's raison d'être — but slightly repackaged and going under the name Heello.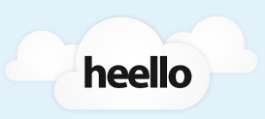 How similar to Twitter is Heello? Messages are limited to 140 characters; users can reference other users by adding the @ symbol in front of handles; and the rest is renaming: tweets are "pings," re-tweets are "echoes" and instead of following or unfollowing, Heello (pronounced "HE-low") users "listen" and "unlisten."
The one element of Heello that isn't like Twitter is a lot like Apple: notice the similarities between the Heello cloud logo and Apple's MobileMe logo.
But Heello isn't all fragments of Twitter scotch-taped together and dolled up; Heello has three features distinguishing it from the big blue bird. First, "pings" appear in real-time, meaning the flow of "information" comes fast and furious. Heello also links with your Facebook or — catty irony alert! — your Twitter accounts, so you can ping, update, and tweet all with one click. Also, Heello supports private messaging among groups, which, when you think about it, isn't really private messaging at all.
Before you get too excited (or ambivalent) about Heello, this rollout comes with a caveat: Noah Everett is notorious for drumming up publicity on a lark. For example, Everett was supposedly arrested a couple of months ago for allegedly strolling down the street in the nude. The problem with that claim — and the "evidence" Everett supplied in the form of a TwitPic from the back of a police cruiser — is that, well, it's kind of impossible to be naked and carry a cellphone and not have the police notice said cellphone and confiscate it.
Also, reading a few lines of Everett's interview with VentureBeat clearly shows the young entrepreneur's penchant for snarky lolz. Referencing Twitter's just-unveiled photo-sharing feature — the very thing that kept TwitPic in business — Everett joked that he started Heello because "If Twitter can compete with its developers without fair notice, then why can't we?"
The rest of Everett's VentureBeat interview exposes a more serious side to Heello and the founder's ambitions, but honestly, when you get down to brass tacks, it'll be hard for any startup to rip off one of the grandfathers of social media line-by-line and find success. (Oh, wait — I guess it is possible.)