Android media tablets are slowly grabbing market share from the iPad, but no single competitor has yet to mount a formidable challenge to Apple's industry-leading slate.
Makers of Android-based and other media tablets have collectively taken 20 percent of the market from the iPad in the past 12 months, according to ABI Research's new "Media Tablets" study.
The report, however, confirms what is readily apparent to tech industry observers: No tablet maker has been able to build the mythical "iPad killer," a slate so compelling that it cuts sharply into Apple's market dominance.
So what's the problem? Fragmentation within operating system software–particularly Google's Android OS–is hampering growth, says ABI Research analyst Jeff Orr.
Android current has "no less than three" software builds for tablets. That's bad news for app developers, who may delay development of an Android app if the market potential isn't there.
There's no shortage of iPad competitors, however.
"De-featured, low-cost media tablets are being introduced by more than fifty vendors in 2011," says Orr in a statement.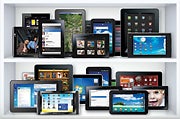 "This will certainly help bolster year-over-year growth for the category, but it also creates a negative perception in the minds of the mass consumer audience about the readiness of media tablets to be fully functional within the next several years," he adds.
Smaller form factors and lower prices may help Apple's competitors. Tablets with 7-inch displays, including the Samsung Galaxy Tab, HTC Flyer, and the new Acer Iconia Tab A100, offer an alternative to consumers who find the 9-7-inch iPad too large for their needs. And with the cheapest iPad selling for $499, the $329 Iconia Tab A100 and newly-discounted $399 HP Touchpad may appeal to bargain hunters, particularly if the economy continues to lag.
Contact Jeff Bertolucci via Twitter (@jbertolucci) or at jbertolucci.blogspot.com.