The agency that runs the commuter trains that rumble beneath San Francisco each day hit the panic button Thursday night, cutting off mobile-phone service to hundreds of thousands of commuters in an effort to thwart a protest that was expected to snarl up the evening commute.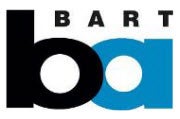 The disruption kept mobile phones and computers offline in a transit system used by one of the most wired cities in North America. Riders couldn't make wireless calls, surf the Web or dial 911.
One commuter, a San Francisco quality assurance engineer who asked that he be identified only by his Twitter handle, Greggawatt, said his phone service was cut around 4:10 p.m. as he headed out of San Francisco's Montgomery Street station on an underground train bound for West Oakland. "I noticed other riders looking quizzically at their phones as well," he said via e-mail. His T-Mobile service vanished until the train emerged above ground several miles away in Oakland, he said.
With all services cut, Greggawatt was concerned that he wouldn't have been able to call police or the fire department in the event of an emergency. "Shutting down 911 service was extremely irresponsible," he said.
The Bay Area Rapid Transit (BART) District said Friday that it cut phone services out of safety concerns. "Organizers planning to disrupt BART service on August 11, 2011 stated they would use mobile devices to coordinate their disruptive activities and communicate about the location and number of BART Police," BART said in a statement posted to its website. "A civil disturbance during commute times at busy downtown San Francisco stations could lead to platform overcrowding and unsafe conditions for BART customers, employees and demonstrators."
On Friday BART initially claimed that it had asked carriers to cut service Thursday night. A few hours later, it changed a statement on its website, saying that it had cut services itself.
MetroPCS, AT&T, Sprint, T-Mobile and Verizon all provide mobile services on BART. BART didn't respond to messages asking how long the disruption lasted.
A San Francisco spokeswoman for Sprint said that her company is investigating, but she said that BART did not inform her of the service cuts. "I learned about it through the news," said Caroline Semerdjian. Representatives with the other carriers could not immediately be reached for comment.
The transit agency has weathered criticism and protests for the past month, ever since a BART police officer shot and killed 45-year-old Charles Hill on a station platform. BART, which maintains its own police force, said Hill had thrown a knife at the policeman right before he was shot. It's the second fatal shooting by BART police since 2009. Last year former BART police Officer Johannes Mehserle was convicted of killing an unarmed passenger, Oscar Grant, while making arrests after 2009 New Year's Eve celebrations got out of hand on BART's lines.
Protesters had shut down BART during a July 11 protest over the Charles Hill shooting, but were apparently trying to mobilize the Thursday event at the last minute in order to retain the element of surprise. By cutting mobile service, BART thought it would prevent this from happening, a tactic that seems to have worked.
Mobile phones and Internet services such as Facebook and Twitter have been lauded for helping protesters organize uprisings in Africa and the Middle East, but when they're used for the same activities closer to home, U.S. and U.K. authorities are still figuring out what to do.
After riots flared up throughout the U.K. this week, British Prime Minister David Cameron said his government was looking at ways to cut social media communications during times of crisis.
Ron Deibert, a political science professor with the University of Toronto who studies the use of technology in global affairs, said that type of mobile service disruption is unprecedented in the U.S. "I have not heard of this happening in the United States, although it happens frequently in zones of conflict and in authoritarian contexts — places like Belarus, Tunisia, Iran, Burma, Egypt, Libya, and Cambodia," he said via e-mail.
Robert McMillan covers computer security and general technology breaking news for The IDG News Service. Follow Robert on Twitter at @bobmcmillan. Robert's e-mail address is robert_mcmillan@idg.com