Samsung is ready to bring its flagship Android-based Galaxy S II in the U.S. — a popular offering for consumers — and beat Apple to the launch of the iPhone 5.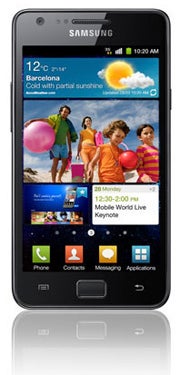 The Galaxy S II is probably the strongest rival to the iPhone.
It runs on Android 2.3, has a 4.3-inch display, a dual core processor, 1GB of RAM, an 8-megapixel camera and a superthin design. Although it hasn't been available in the U.S., the Galaxy S II sold a record 3 million units in just 55 days, which is in part due to Apple holding back the launch of its next-generation iPhone.
Samsung will hold a press event on Aug. 29, where it is expected to spill all the details about the U.S. arrival of its iPhone competitor.
In the U.S., Samsung is likely to continue its strategy to sell the same smartphone bare bones slightly repackaged for each large wireless carrier.
The Galaxy S II is rumored to sport a sliding QWERTY keyboard when it arrives on AT&T as the Attain and on Sprint it's expected to have 4G WiMAX connectivity under the Within name.
The Samsung Galaxy S II for Verizon, possibly dubbed Celox, is rumored to sport 4G LTE connectivity and up the ante on specs. This includes a larger (4.5-inch) display, a dual-core 1.5Ghz (up from 1.2), taking a toll on thinness and device weight. The Galaxy S II for Verizon could end up being a different phone from the Celox though, as it offers 800MHz LTE support, incompatible with the frequency used in the U.S., 700MHz LTE.
Meanwhile, Apple watchers are buzzing about whether the iPhone 5 will arrive in September or October. There are no details on the features of the upcoming iPhone, besides wide expectations it will run on dual-core A5 processors (as found on the iPad 2), and sport a better (possibly 8-megapixel) camera.
Follow Daniel Ionescu and Today @ PCWorld on Twitter