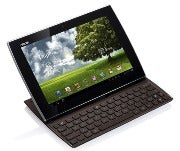 The Asus Eee Pad Slider, an Android tablet with a slide-out keyboard announced way back in January at CES, may actually be available for purchase soon. Well, maybe. Sources say the Eee Pad Slider will hit store shelves next month, and a new Eee Pad Slider product page at Asus reveals the full specs for this mythical tablet.
Recall that one of the other tablets Asus announced in January, the Asus Eee Slate, went on sale at the end of that month, and the Slider was expected in May. With summer nearly over, if you've been waiting to pick up this tablet you might have been disappointed by the lack of a firm release date.
Notebook Italia reports that an Asus Italy representative assured them the Eee Pad Slider would arrive in Italy in September, and there would be two models: a version with 16GB of storage and one with 32GB. Notebook Italia reports that the 16GB model will cost $400 and that the 32GB version will be $500. This is comparable to the price cuts on the HP TouchPad and the Asus Eee Pad Transformer, making the 10.1-inch tablet an attractive option if and when it arrives in the United States.
Asus has listed, for the first time, the complete specs for the Eee Pad Slider, revealing the tablet will ship with Android 3.1 but be upgradable to Android 3.2. Other specs listed confirm what we already knew of the Slider, including its Nvidia Tegra 2 processor, 1GB of memory, and 1280 by 800 resolution. Now, however, battery life is listed officially as up to 8 hours (up from 6 hours) and a thickness of 0.68 inches—not bad for a tablet with a built-in keyboard, but not the "under half an inch" we were expecting either.
We'll see in a couple of weeks whether the wait has been worth it—if the sliding tablet actually makes it to market, that is.
Follow Melanie Pinola (@melaniepinola) and Today@PCWorld on Twitter